To the Pyrenees, September 2017
This was a wine and golfing trip combined. September is not the best month to demand wine tastings in France because it is usually time for the
vendange
or grape harvest. Proper wine growers are busy with delivering the product that represents their livelihood. On the other hand we had driven all the way from London and we had plastic……at times it felt like negotiating Brexit.
On the first night we stayed in a functional hotel in Cahors that served warm hard boiled eggs for breakfast. Cahors is a reasonably attractive town which manages to be flanked by the river Lot on three sides.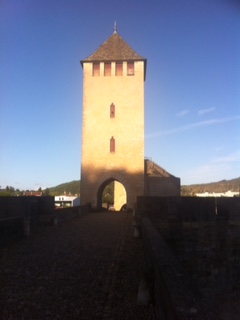 We had dinner in the Bistro Gambetta. I now find that it gets a bit of a hammering on TripAdvisor. Perhaps Cahors is a gourmet's paradise and there are really 38 better restaurants in town? But it was fine for peasants like us. I had a great salad of gésiers de canard (they're gizzards..….whatever they are) and we drank a Cahors wine called Chateau Eugenié which we met again the next day.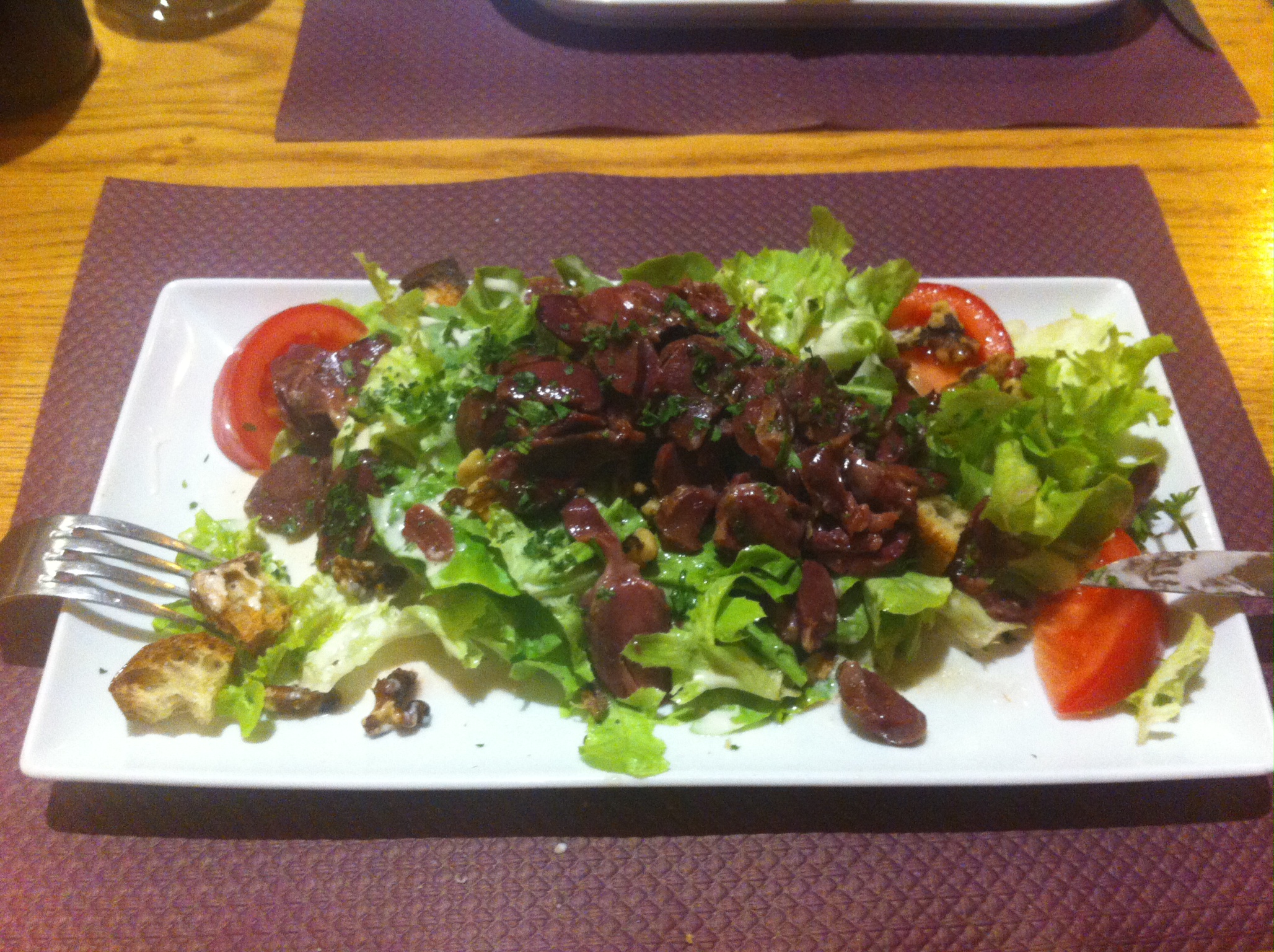 The following morning we drove to the hotly tipped Mas del Périé run by a youngish man sporting what I would call a Hoxton beard. We discovered him working in a small office next to the front gate. It was 11.00, well before lunch. What could be better? Well, it turned out that you don't just bowl up and expect to see
Fabien Jouves,
artisan, vigneron, without an appointment. We successfully resorted to the tested play of saying "we have driven from London to see you" which was technically correct in as much as we had driven and we started in London and we were seeing him quite clearly. So, with reasonably good grace he caved and led us to his
cave
. His wines were interesting (and expensive) and he spoke about them with great enthusiasm. And now I want to digress and tell you summink but please stick around because it will make you sound really knowledgeable about wine in front of your friends. Which of us wouldn't sacrifice an arm or at least an ear for that?
There is a standard for respectable French wine known as Appellation d'origine controlee (AOC). Each AOC area sets quite strict standards about where and how the wine is produced and which grapes are allowed. Some appellations require a blend of grapes with minimum or maximum percentages. You may well already know that. What you probably don't know is the following.
If you draw a line from Calais in the north to Carcasonne in the south you will find that there are grapes that are pretty much only found on the west side (Atlantic grapes) and others only to the east of the line (Mediterranean grapes). The main red wine grapes of Bordeaux are Cabernet Sauvignon, Merlot and Cabernet Franc. You will find these all over the west of France including most of the Loire. On the other side of France (Burgundy and the Rhone) you will find Pinot Noir, Gamay and Syrah (aka Shiraz). In terms of white, the Med scores Chardonnay, Sauvignon Blanc and Viognier. The Atlantic largely makes do with Chenin Blanc.
Next time you are at a dinner party where someone starts talking about house prices or Brexit, hit them with that.Back to M. Jouves in Cahors. Cahors red wine is based on the Malbec grape. Purists with strong heads think that Malbec is a king among grapes. Others with subtler tastes prefer the Malbec to be blended with the permitted mixer grapes, which are Merlot and Tannat (Malbec minimum 70%). Being the kind of fellow he is, Fabien Jouves produces a wine from a grape that is not permitted. The grape is Jurancon Noir and the wine is called
You Fuck My Wine?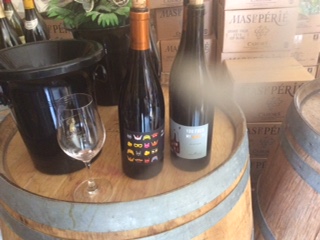 Fortunately it was very palatable so I was able to justify my inevitable purchase. The pure Mailbec wine was heady and expensive. Not entirely to my taste. I preferred the look of the curing hams hanging above the tasting area.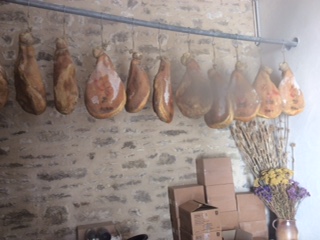 We drove on to Chateau Eugenie which is on the banks of the Lot, below the village of Albas. This has a permanent and professional tasting and selling outlet, which was something of a relief. It was competently and pleasantly manned, if that's the word, by a young woman from French-speaking Canada. There was a generous selection of red wines and a variety of years necessitating many slurps. Their basic red, which we had drunk the night before, sells for around €6 (€18 in the restaurant). Their top cuvee, which is pure Malbec, costs around €22. So, plenty of choice. Once we had sipped, swallowed, spat and invested we went on a 45 minute walk around the vineyards. It was obvious that we were mid harvesting as some rows of vines were stripped (if that's the word) and others were laden with dark black grapes. I must confess that we sampled a couple of Malbec and Tannat grapes. The latter were much sweeter which surprises me because they are the source of the word "tannic".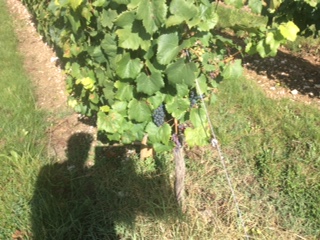 The next day, a Saturday, we embarked on a two hour drive to the Irouléguy area. Irouléguy is a small wine region around 50 kilometres south-east of Biarritz and close to the Spanish border. The vineyards lie between the towns of Saint-Étienne-de-Baïgorry and Saint-Jean-Pied-de-Port. These are just ten kilometres apart and we came to know the road between them all too well. Irouléguy red is made from the classic Atlantic grapes of Tannat, Cabernet Sauvignon and Cabernet Franc. The absence of the smoothing Merlot probably explains why the wine is a little rustic for some tastes. The white is made from Gros Manseng, Petit Manseng and Petit Courbu, all obscure as far as I am concerned. I have enjoyed Irouléguy white in the past but it emerged that the growers are more interested in their rosés than their whites, possibly with good reason. We arrived at noon and assumed that the wine growers would be closed for lunch. We were half correct. Everywhere we tried seemed to be having a
fermeture exceptionnelle
all day. The road between the two towns is littered with signs urging you to follow a single-carriage track in pursuit of one grower or the other. Everywhere we arrived (thank you Domaines Brana , Ilarria, Michel and at least two others) there was not a soul who was prepared to pop a cork.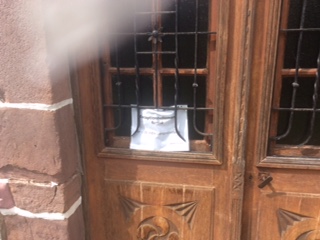 My famous good humour was beginning to fray but all was not quite lost. In Saint-Étienne-de-Baïgorry there is a local cooperative outlet that sells plenty of local ewes' cheese and a selection of wines. This is the
Cave Irouléguy
. According to its website it uses grapes from 60% of the entire appellation, so ending up there was perhaps not such a defeat. That having been said, I bought some red and some white without feeling that I had discovered anything that justified a drive of 800 miles from London. Back in Saint-Jean-Pied-de-Port when we first arrived we had called at Domaine Mourguy to find a gentleman (M Mourguy, I presume) who was about to have his lunch and asked us to come back later. At the time I intoned my usual line of "if they don't want to sell it to you, just walk away". Three hours later we raced back there as if it was an oasis in the desert (which it was, in a way). Happily we discovered Mme Mourguy (Florence: there will always be a place in my heart for you) who courteously broke off from treading grapes, or whatever it was she was doing. I happily bought a case of really interesting and drinkable red and half a case of rosé which strangely (I may have been delusional with gratitude at this point) tasted like a really fruity Chardonnay. On the way back to London we flayed a few golf balls in various directions (it's years since I last played 5 off the tee) and stayed at Bordeaux where we bid farewell to the South West by consuming this Cassoulet.