October 2021 - third time lucky
With arbitrary travel restrictions having postponed our trip in June and again in August we finally managed to crawl, expensively, through the hedge of arbitrary rules in October. The first day was a drive from London to Strasbourg - ten hours in all - and it rained hard without relenting. A most unpleasant waterworld dominated by juggernaut spray machines.
As intended, we went to bed early and left in good time the next day to drive through the Alsace wine region to taste the selection of Francois Schmitt at Orschwihr. We met the enthusiastic and as it soon became clear experimental son Frédéric. This immaculate Domaine seems to make everything Alsace and includes eight different grapes.
After a very late frost in 2021, volumes for this year's harvest are down everywhere. The worst we found was here where the hit was 90%.
A curiosity, though not a high point in the tasting, was a bottle labelled simply "Alsace" which was a blending of all eight grapes and intended for the US market. My impression is that US wine drinkers are becoming more aware of the characteristics of individual grapes and this seems rather like unnecessary dumbing down. But a combination of politeness and ignorance meant that I kept my opinion to myself.

Naturally I voted with my nose and my payment card. Twelve bottles of Gewurztraminer Bollenberg, Cuvée Marie France (€10) and six surprisingly good Pinot Noir (€13). The Gewurztraminer was the last white wine I bought, having been tempted to buy too much last year during the August heatwave. Most chilled white wine tastes delicious in a heatwave.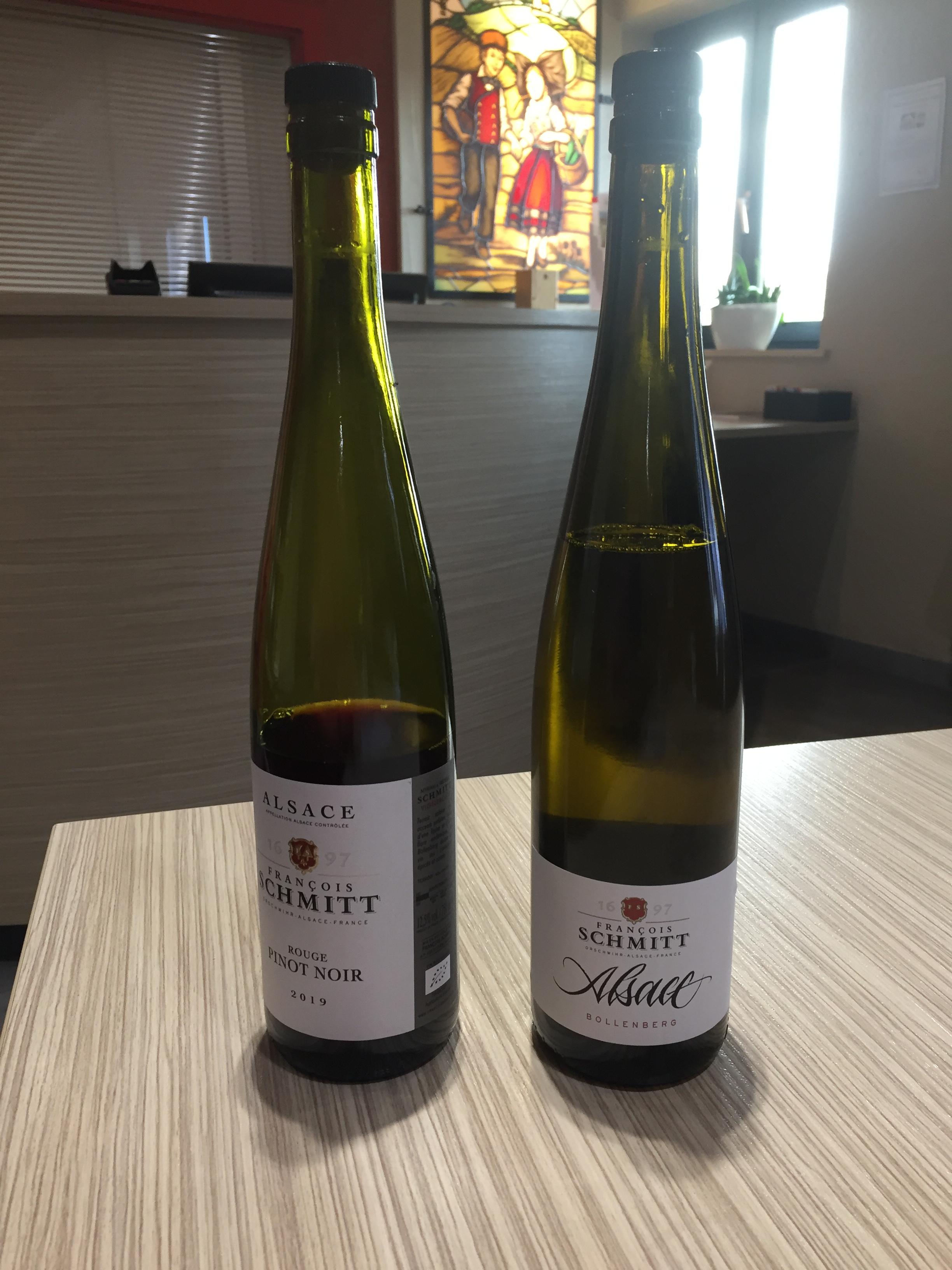 Next we motored for some time to make it to Fleurie before close of play. The Clos de la Roilette, run by Alain Coudert, makes what is informally known as Horse's Head Fleurie (la Roilette was a racehorse, pictured on the bottle).
Last year I didn't buy enough of the excellent 2019. This time I snared two cases of the 2020 at €9.9 a bottle. It is quite young but I hope and believe that it will improve if it can avoid contact with a corkscrew for a while.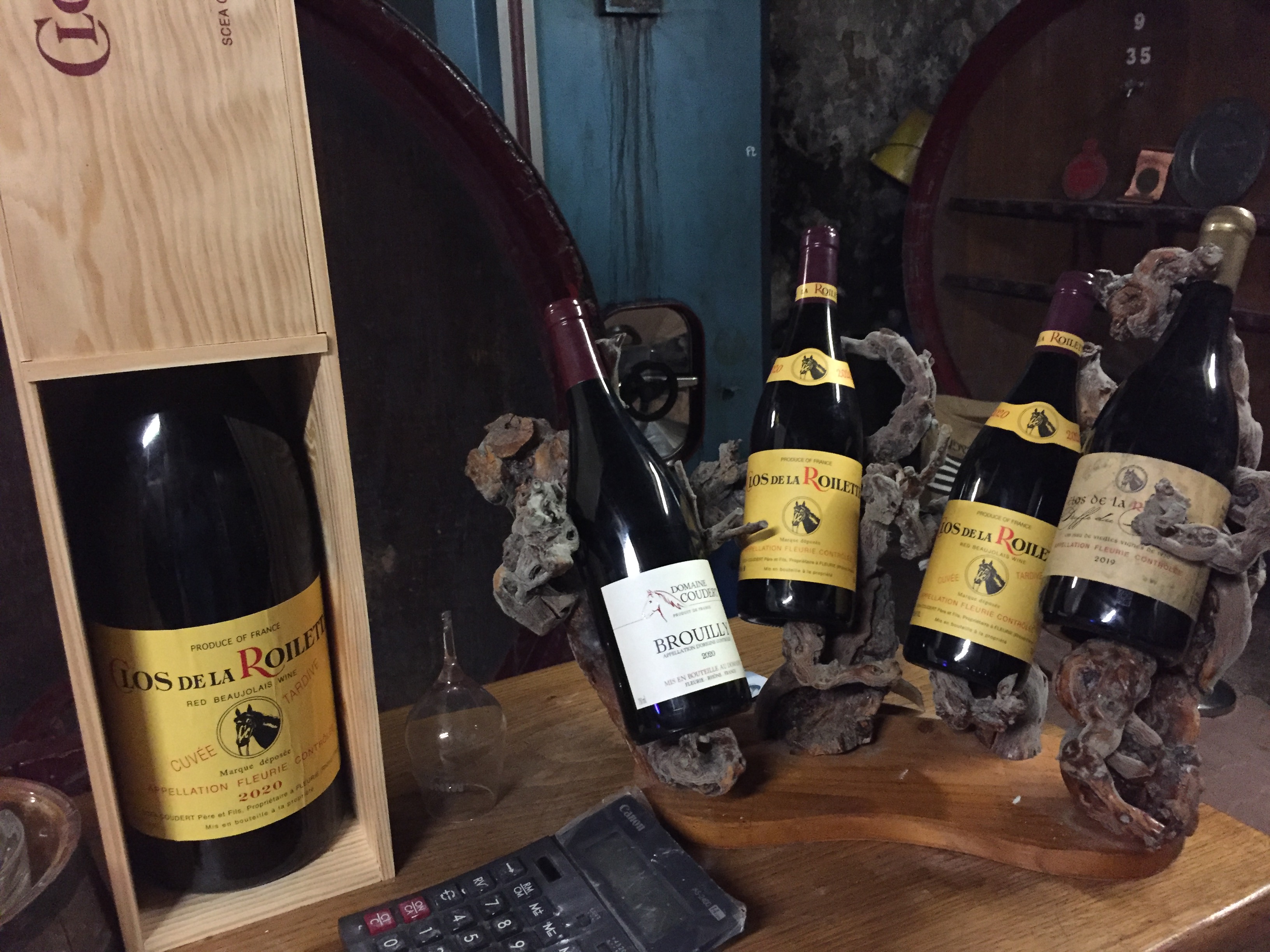 That night we stayed in Beaune, which is a sprawling metropolis with a charming old town in the middle. We ate a decent meal in a lively bistro but the experience was blighted by being seated in front of wall screens playing interminable pop videos, reminiscent of the tortuous aversion therapy scene in Clockwork Orange. Why oh why oh why?
Fittingly we set off for the town of Orange the next day.
Having discovered back in 2018 that the eastern side of the Rhone south of Lyon is deadly dull, we followed the smaller roads on the other side of the river in search of a picnic spot. This took us through the village of Condrieu, with plenty of intriguing sloping vineyards up to the right. Eventually we found some picnic tables by the river. The Mistral was stirring and it was not the warm wind that we experienced last time, in June.
I could write a small informative book on places to have picnics in France if only I could remember where they were. Before Orange we called in at Domaine Alary just outside Cairanne, where I bought a case of La Brunotte, a blend of Grenache, Mourvèdre and Carignan.
We checked in at our hotel in Orange about five minutes before the arrival of a coach party. We dined at the Festival Café which was solidly adequate and mercifully free of music videos.
The next morning we left early to drive the few miles to Vacqueyras before opening time (09.30). Le Clos des Cazaux is a picturesque Domaine that makes Vacqueyras, Gigondas and basic Cótes de Rhóne should you want it. I bought twelve Saint Roch Vacqueyras (€11) and the same number of La Tour Sarrasine Gigondas (€14.5). I like tasting wine in the morning. Although cellar smells can be daunting, especially if you drank plenty the night before, I find the early morning taste of wine very pure (though it is highly advisable to spit rather than swallow before, say, 11.00).
We were now heading north again but wanted to avoid too much motorway driving so once we were through Lyon we peeled off to the west with an eye on finding another picnic spot. When I write my short book the name of Tarare will not feature. Despairing of a town consisting of little but bus stops and roundabouts we followed a small road up into some hills. Eventually we found a table by an abandoned barbecue site outside a closed restaurant. The temperature had dropped to the point where the simple use of the hands was becoming challenging. Al fresco eating in October now seemed somewhere between eccentric and insane. Stoically, we spread our chilled paté onto our stiff baguettes.
We stayed that night in the surprisingly clement village of Sancerre (it's on a hill). It was even possible to have a drink sitting outside a bar. And the view from the Le Panoramic Hotel did not disappoint.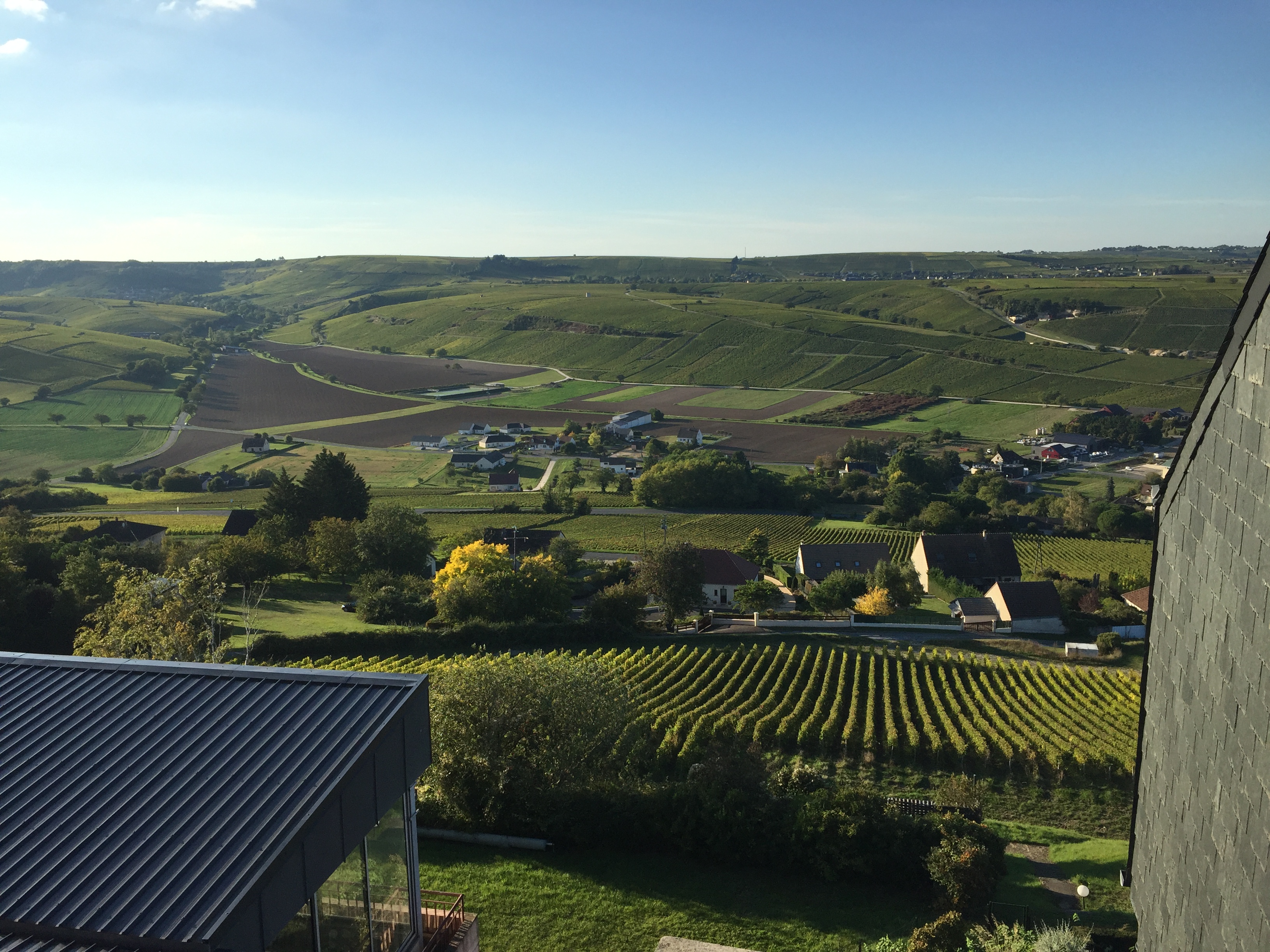 The next day was very busy with wine tasting because we had very little distance to cover. We started at Dezat, a Sancerre producer from a nearby village called Vedigny. Dezat sells to at least one London restaurant and, as we discovered before, treats those who take the trouble to seek the Domaine out in person with an attitude that comes dangerously close to indifference. But their basic red is well worth €9.8 and I also paid up for half a case of their Prestige (€13.8) which is lightly oaked. The basic was 2020 but the Prestige was 2019 which I think was a better year.
Then we drove for around twenty minutes to the Domaine de Villargeau which is normally a source of flinty Sauvignon Blanc. As I wasn't buying any more white wine that month I went for six bottles of Chicago (€10.5), which is 80% Gamay and 20% Pinot Noir. The name dates from the days after phylloxera when the French had to import healthy vines from the US and these were shipped from that city with its name stamped on the containers.
We had lunch at a picnic table overlooking the village and vineyards of Irancy. It was slightly warmer than the experience of the day before. Then, a visit to some old friends in Irancy.
First, the famously meticulous Christophe Ferrari who is carefully handing over to his son (as yet nameless on the website). Ferrari Junior conducted our tasting with enthusiasm. I bought six bottles of 2019 basic red (€14.8) and half a case of 2018 Mazelots (€16) which I now see was awarded a star by the Guide Hachette.
Then we called on the loquacious veteran Jean-Pierre Colinot, a man who really knows how to make wine and has always charged accordingly. Whether his wines are as good as his own description of them (invariably "exceptionnel!") is a matter for debate. M. Colinot is now seventy eight years old and, though somewhat frail, is surely a testimony to the quality of his product. His tastings are generous in scope and apt to become bewildering. I was fearful of how high his prices might have risen but honour and history were satisfied by six bottles of 2018 Palotte (€19).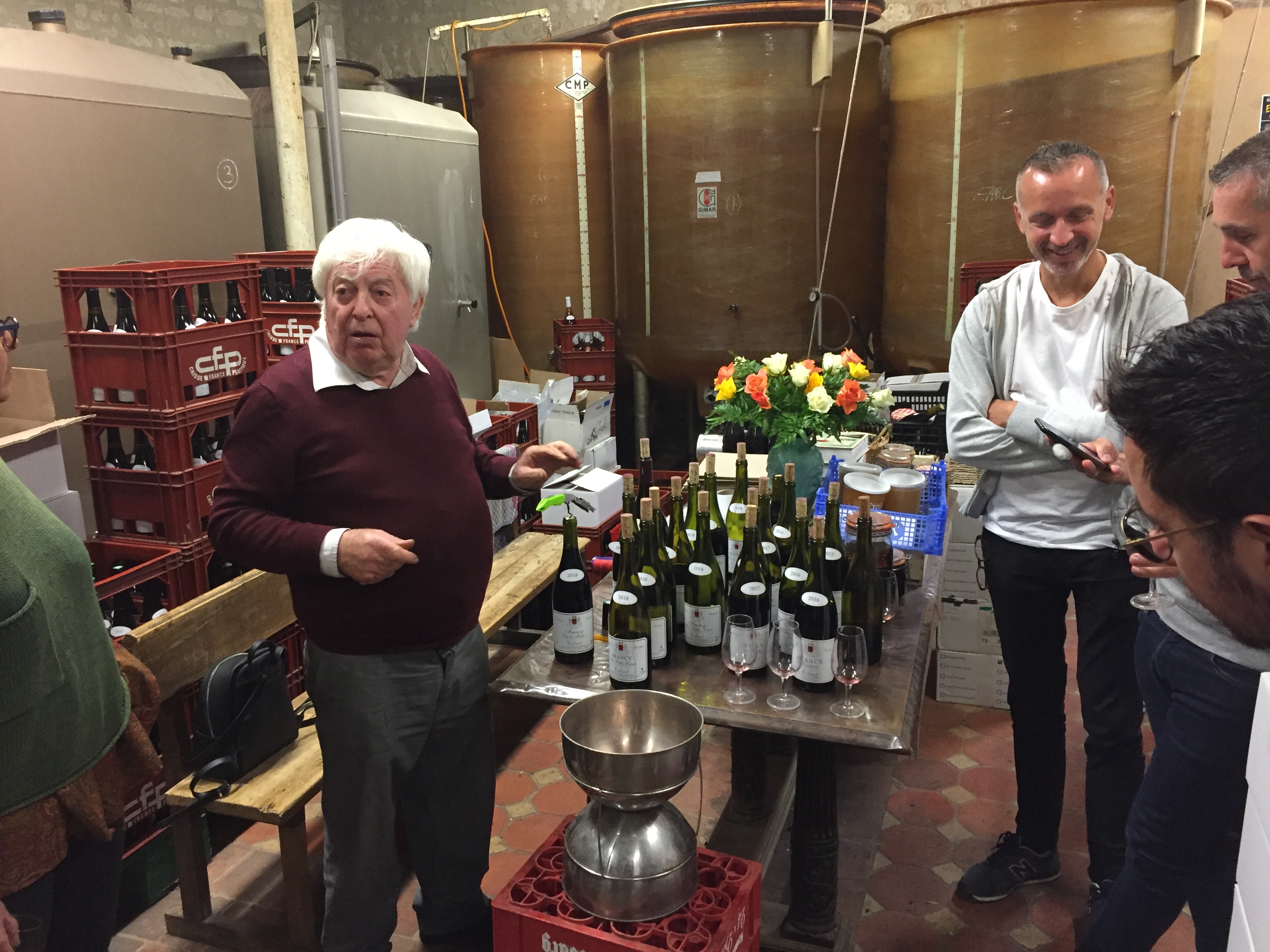 We then went to see another old Irancy friend, M Daniel Renaud. He sadly turned out to be dead but happily his son, David, appears to be making a great job of taking the Domaine forward. I bought six bottles of basic 2019 Irancy (€14) and six Mazelots 2018 (€16), the latter being 97% Pinot Noir and 3% César.
Our final evening was spent in excellent accommodation in Auxerre. For reasons that were not entirely clear, restaurants in Auxerre were packed that Saturday night and we were up to #25 on TripAdvisor before we found a table. Le Gout des Autres is quirky but friendly and we were glad that we had booked.
The final score was 126 bottles at an average price of €12.35.