June 2018 - reaching out to the Rhône
Having discovered that frost had seriously restricted the 2016 Burgundy crop we at once resolved to venture further south to the Rhône valley. This required an extra day away, a sacrifice that we agreed we were prepared to make. It is 462 miles, excluding the channel tunnel, from our starting point in London to our first overnight stop in Mercurey. Little wonder that we managed only one dégustation on the way.
Two years ago we discovered
Domaine Prudhon
in Saint-Aubin. At around 5pm we turned up on spec but found the house empty. Just as I was about to ring the bell for the third time - in the hope, perhaps, that the inhabitant had been mildly concussed but was now coming round - the sound of approaching agricultural machinery could be heard and an encouragingly weathered man appeared riding on top of something that looked like a lunar vehicle on stilts. It turned out to be Bernard Prudhon himself. Having driven 458 miles to be there we gratefully agreed to wait five minutes during which time we wandered into the town cemetery and found the family grave. This yielded the fairly unusual fact that in the early 20th century a young lady named Prudhon married a young man named Prudhon. I didn't have the time to explore further and see whether this had been characteristic of life across the village. (Though I should say that there are two wine producers in Saint-Aubin named Prudhon and this may have been a merger in more ways than one).
Bernard's daughter Elodie, who though eight months pregnant had also been working in the vineyards, conducted our tasting. It turned out that the first wine I tasted was the most expensive I bought on the whole trip (€16). This was their basic Saint-Aubin 2016 white (Chardonnay, of course) which was chilled and delicious. Admittedly, having driven for so many hours I was quite thirsty but I had been told that 2016 Burgundies, when available, are great. Yes!
I also bought some 2014 red, Pinot Noir "Les Castets". We stayed in Mercurey and ate well and drank the eponymous wine.This is a cured ham and apple salad with melted Époisses cheese in a brioche bun.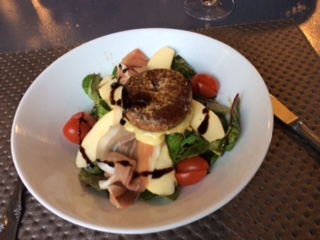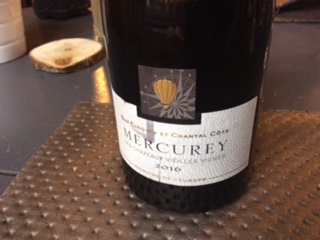 The next morning we headed further south to Beaujolais to revisit
Alain Gauthier
in Villie-Morgon. We turned up on spec and again found the premises deserted but a message inviting us to summon him by mobile phone produced the man himself in five minutes. He is a likeable chap who is keen to serve his customers to an extent that one does not always find in France. His makes Chiroubles, classically light and fruity, and Morgon which is slightly deeper.His wines were as pleasant as he is, so I bought some of everything that had been spared oaking. (Soaking Gamay in oak seems like an assault to me but chacun ses gouts). I paid €7-€8 a bottle. This is outstanding value. There is a great deal of local competition. There must be a couple of dozen producers along the roads in and out of town. M. Gauthier also told us that there is a bumper crop on the way in 2018 – more good news for we consumers.Back on l'autoroute du soleil and the next challenge was to get through Lyon. The motorway typically dwindles to a two lane queue through a tunnel in the middle of the city. It doesn't get much better after that as the east bank of the Rhône seems to be a series of zones industrielles. Bored and hungry we headed for the Rhône itself and eventually found a great place to have a picnic lunch by the river at Andance. Though it was very windy. The Mistral had showed up.We and the Mistral stayed for the next two nights in Orange. In my ignorance I always assumed that the Mistral blows from Africa but I can assure you that the opposite is the case. It blows from the North down the Rhóne valley into the Mediterranean and it is quite capable of picking up your lunch and bowling it across the road. My culinary curiosity of Orange was a starter of salmon carpaccio (dressed but raw) with thick shavings of white chocolate. The late Anthony Bourdain wrote in Kitchen Confidential that he once created recipes while high on drugs. It seemed possible that this practice had survived him. Anyway, the dish might have been a small tribute. (It tasted ok but I will not be recreating it at home).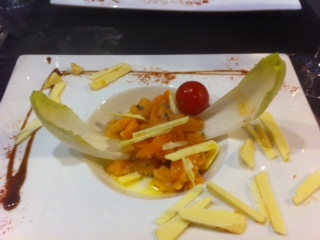 Arising without ill-effect the next day we set off for a serious wine exploration of the southern Rhóne. Clos de Cazaux is a domaine incorporating Vacqueras (20 hectares of vines) and Gigondas (15 hectares). Grenache is the main grape behind Southern Rhône wines, most notably Chateauneuf du Pape, but they will invariably be blended, especially with Syrah (the grape behind the expensive Northern Rhône wines like Hermitage).
From a good selection I bought a Gigondas, la Tour Sarrasine. This was blended with 15% of a grape called Mourvèdre (known as Monastrell in Spain). This wine cost €13.1 a bottle.
Next we drove a short distance to the tiny hillside village of Séguret. Above the village we stumbled across the Domaine de Mourchon, which turned out to be the result of an investment in 1998 by a Briton who made his money in the oil industry. It is now quite a slick business that is ambitious in its range. It makes a Chateauneuf du Pape and a pure Syrah, in the style of the Northern Rhône .
Some of the wines are endorsed by Robert Parker and are quite richly priced. It wasn't really our idea of a traditional family business but I bought half a case of their Tradition Séguret Côtes du Rhône Villages and we moved on.
Down the road we found Cairanne which has reportedly recently been awarded its own appellation. As luck would have it we found exactly the kind of family business that we were looking for. To quote their marketing literature, "the Alary family's involvement in viticulture and wine production dates as far back as 1692, in the reign of Louis XIV". Happily it turned out that those 324 years waiting for Appellation status were well worth it.
We tasted seven reds and three whites, no doubt impressing the tattooed mademoiselle who was pouring with our diligence. This is a domaine that wants to make something for everyone. It reminded me of Malcolm Gladwell's TED talk on "choice, happiness and spaghetti sauce." To save you the time of watching it, the message is that people don't know what they want – they are unable to articulate how their ideal wine tastes – but they know it when you give it to them.
I knew when I tasted their La Brunotte Cairanne Rouge that it was what I was wanted. And here's a thing – it was blended with Mourvèdre again, just as the Gigondas had been. I had discovered my common thread and this time for just €9.8 a bottle. We also enjoyed and bought some zingy white called La Chevre d'Or (a snip at €7.8).
After many thanks and handshakes we drove up to Cairanne village itself and found a picnic bench near the church with a great view. Most of the picnic was blown away by the Mistral but we managed to eat enough as it flew past.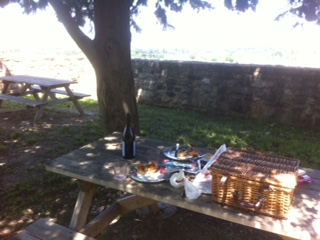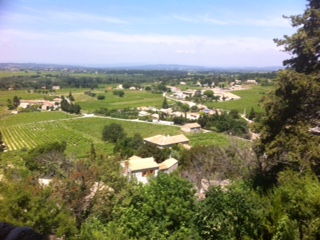 The next day we began to head home. We were staying in Macon and drove there via one of our regular vendors, Gérald Talmard in Uchizy. For the third time on our trip we arrived to find the property deserted only for the owner to drive up within minutes. For an average of €6.5 a bottle I bought some Macon Uchizy and some Cuvée Champ Saint-Pierre, which uses old vines, planted in the years 1935-45. All his wines are highly drinkable and 100% Chardonnay.
The next day we skipped breakfast and left early to drive 160 miles to make it to Domaine de Villargeau by noon. We had emailed ahead and been told that the Thibault family had "un impératif en début d'après midi". As we swept across country I realised that this was a reference to France's first World Cup game which was against Australia. I banished the thought that this was the equivalent to being inconvenienced by an Australian in order that he could watch his country play cricket against France and arrived triumphant at 11.30.
As ever, their wines were well made and interesting. I bought a white Sauvignon, Les Genets Gris , and a red 2017 Pinot Noir. This was bottled quite early because the whole 2016 crop was lost to frost but it already tasted good to me. These wines cost €9; their top white, La Belle Paresseuse , costs €15.
After lunch by the lake at Druyes-les-Belles-Fontaines, we visited Domaine du Clos Du Roi at Coulanges-la-Vineuse. By chance, the football match was concluding (in a narrow victory for France) so we tasted their red wines in a convivial atmosphere. I bought some basic Pinot Noir and some "Coline" which is blended with César. These were €7.55 and €10.4 respectively.
Our last two visits, to top up a groaning car, were to Christophe Ferrari in Irancy and to Domaine Borgnat in Escolives. From Ferrari I bought his Pinot Noir (€12) and his excellent Chablis (€11). The latter is a fairly new venture for this highly competent producer.
Domaine Borgnat offers holiday accommodation in addition to wine and there is an impression that it can spread itself too widely. I bought half a case of Chateau d'Escolives, another Pinot Noir and César mix, for €12.5 (which was a little grabby, though they gave us a nice corkscrew). We tasted some Crémant de Bourgogne, for which they buy in the grapes, and the white seemed thin and sour while the pink was thin and sugary.
Our last night was in Vezelay where at Le Bougainville restaurant we enjoyed excellent Oeufs en Meurette, a speciality of Burgundy. It is basically poached eggs in drastically red wine sauce. If you ever make it, a) good for you and b) you won't believe how much red wine it uses.