June 2017 - a dash to Alsace
On the first night, 14 June, we stayed again at the Hotel Comtes de Champagne in
Troyes
and had dinner again at the Grill St Jean which is as unpretentious as it sounds but which serves a great starter with grilled Chaource (a creamy cheese) and pear poached in red wine and cinnamon. We made an early start the next day as we intended to drive for three hours before we had lunch (which we bought in Troyes market).
We made it to Jacques Saumaize in Vergisson only to be told by his wife that it was an inconvenient time for a dégustation. Given what we later discovered this may have been a euphemism for "we don't have any wine" but we felt rather casually dismissed and, as we established last year, if they don't want to sell it to you, move on.
Thence to the pleasantly rolling hills of
Chiroubles
, arguably the most Beaujolais-like (light and fruity) Beaujolais. Last year we chanced upon a rather random seller and he proved to have been so random that we couldn't find him again. Circling the village in ever widening circles (and feeling distinctly hungry) serendipity struck and we came upon
Alain Gauthier
who had a parking space for guests and was very friendly. When he discovered that we were English he summoned his wife who had clearly impressed on her husband that she a good English speaker. As it turned out her selling skills exceeded her language skills.
She was equally friendly and gave us four wines to taste while taking trouble to translate "deux mille seize" into a Clouseau-like "two thousand and seeexteen" lest the numerals "2016" on the label should confuse us. Gauthier makes both
Morgon
and
Chiroubles
. The former is a heavier wine and was described by its maker as more like a Burgundy (though it was of course, like all Beaujolais wines, made from the Gamay grape).
We bought some from both of his areas. I slightly regret not trying his sparkling Gamay because I have never heard of sparkling Beaujolais before but we had been through the card of the reds and those were what we had been looking for. Priced between €7 and €8 (direct, not from the website link above) his wines are rather modestly priced. Beaujolais in general is very good value compared to Burgundy.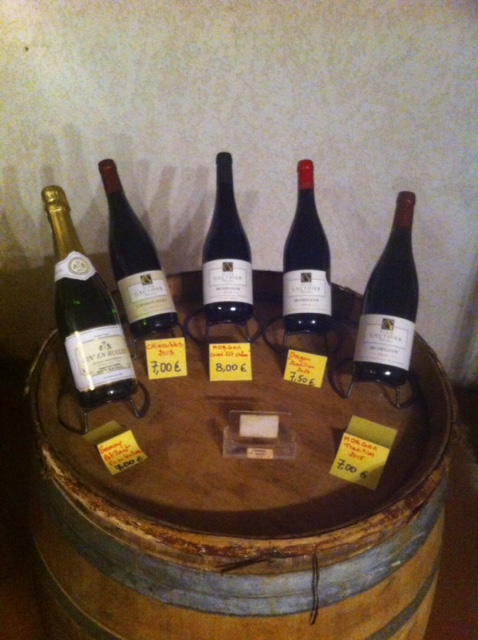 From here we drove a few miles to
Fleurie
where we had lunch at one of the picnic tables in front of the Chapelle de la Madone which overlooks the village. This is the view.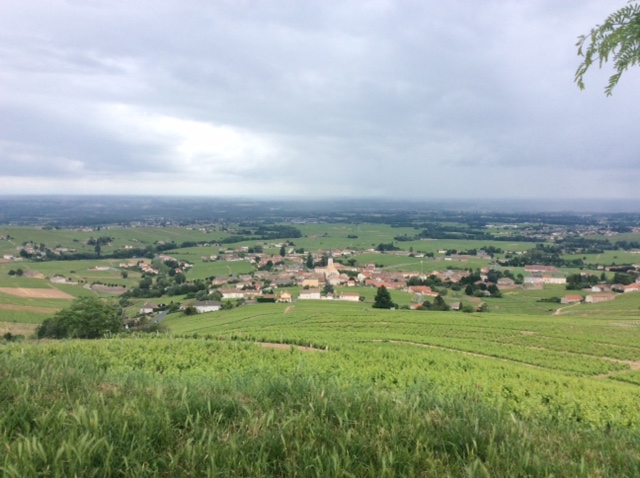 .
We were short of time so pausing only to share the jelly around our pate with a dog we motored down through the village to Domaine Coudert who is rarely to be found at home. This time our luck was in and then out. He and he his wife were both around but his 2015 was not. It was either sold out or held back. Instead we were offered 2016 which was clearly not a top year.
I bought some of their second string
Brouilly
to be polite and we pointed the car north and set off for the village of
Uchizy
in the Macon region where we happily found Gerald Talmard offering wines as unassumingly competent and good value as you could realistically hope to find. Regardless of how many gold medals his wines win they start at €6 and top out at €6.50 a bottle.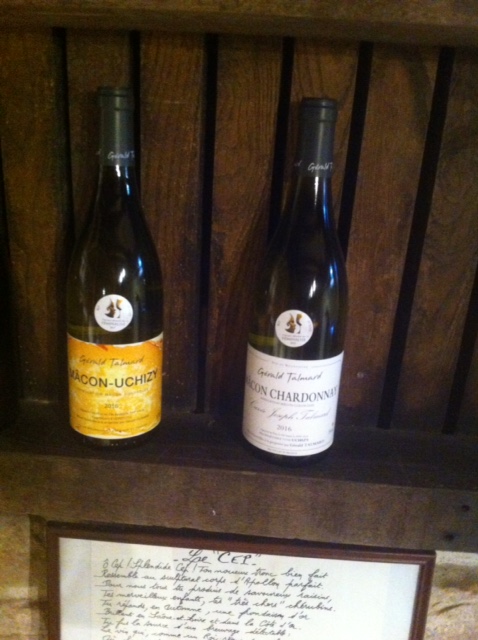 It must have been one of the quickest sales he has ever made because we had a long way to go. It was nearly a three hour drive to
Rouffach
in the Haut-Rhin part of Alsace. It is the area that is said to produce the best Alsace wines and it exudes a rather twee impression of wealth. The Hostellerie a la ville de Lyon is excellent and good value and sits at the foot of this more expensive chateau hotel where you could afford to stay if you weren't intending to spend all your money on wine.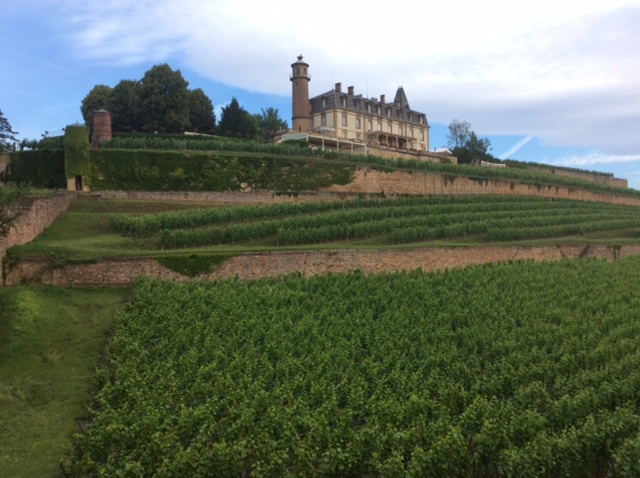 We were up early the next day, eager to get tasting (and spending). We revisited (from our trip two years earlier)
Francois Schmitt
in
Orschwihr
. He offers every kind of Alsace wine imaginable and has a tasting room with an illuminated showcase along a wall. His operation shouts efficiency in a way that perhaps recalls the area's occasional historic Germanic links.
This blurry picture shows what we tasted. The yellowish labels are Pinot Blanc, sometimes described as "off-dry". The white labels are the classic Alsace grape of Gewúrztraminer. The paper visible on the table is their long list of wines available for tasting - far more than amateurs can contemplate just after breakfast, (especially if one of them has already accepted a glass of Cremant d'Alsace with his croissant).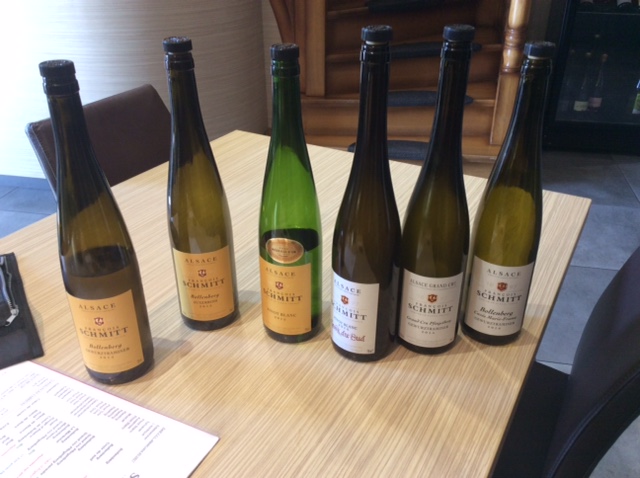 The basic Pinot Blanc cost just €4.50 a bottle and tasted quite thin and nasty. Slightly more expensive was a cuveé named Auxerrois which was zingy and refreshing.
The basic Gewúrztraminer, Bollenberg, was excellent, tasting of sweet grapefruit without being too sugary. By contrast, the slightly pricier Gewúrztraminer cuvée Marie-France tasted to me like sugared water. Finally the Gewúrztraminer Grand Cru was delicious but twice the price.
Next we had another long drive to our next hotel in
Rully
in the
Cote Chalonnaise
part of Burgundy but thankfully we had plenty of time meaning that we could avoid motorways and enjoy the lovely countryside. By mid-afternoon we were at
St Aubin
but found that Bernard Prudhon and his daughter Elodie were out, presumably toiling in the vineyards. Good for them but disappointing for us. So we motored the few miles to Rully itself where happily we had better luck.
First we tried
Domaine Michel Briday
where the amiable Mme Briday was ready and willing to pop some corks. The news about the 2016 vintage was really grim here. Late frost cost them 70% of their production. (There has been some frost this year but the damage was much less). Briday was offering 2014 reds and 2015 whites but the choice was limited because the news has been spreading about 2016 and buyers have presumably been hoovering up the stocks of the earlier years.
Briday produces an Aligoté white. This grape was traditionally used to make Kir (i.e. mixed with Creme de Cassis) which is an indication that it is much less valued than Chardonnay. For the first time I bought half a case of their Aligoté which seemed much rounded and zingier than I remembered it.
Just across the road from Briday is Domaine Ponsot. Fortunately M. Ponsot's son was not about to leave for the golf course (as he was in 2016) and he granted us a tasting. His 2015 white Rully was very good but somewhat prohibitively priced so I settled for half a case.
The restaurant at the Le Vendangerot hotel is superb. It probably merits a Michelin star but I would selfishly prefer it to be overlooked as I don't want be crowded and priced out of a table. Obviously there are few actions more naff than taking photos of one's food. Here is my starter - snail ravioli in a creamy Époisses de Bourgogne sauce with shredded leaks and chives.
And here is the miraculous pudding which was accurately called "100% caramel".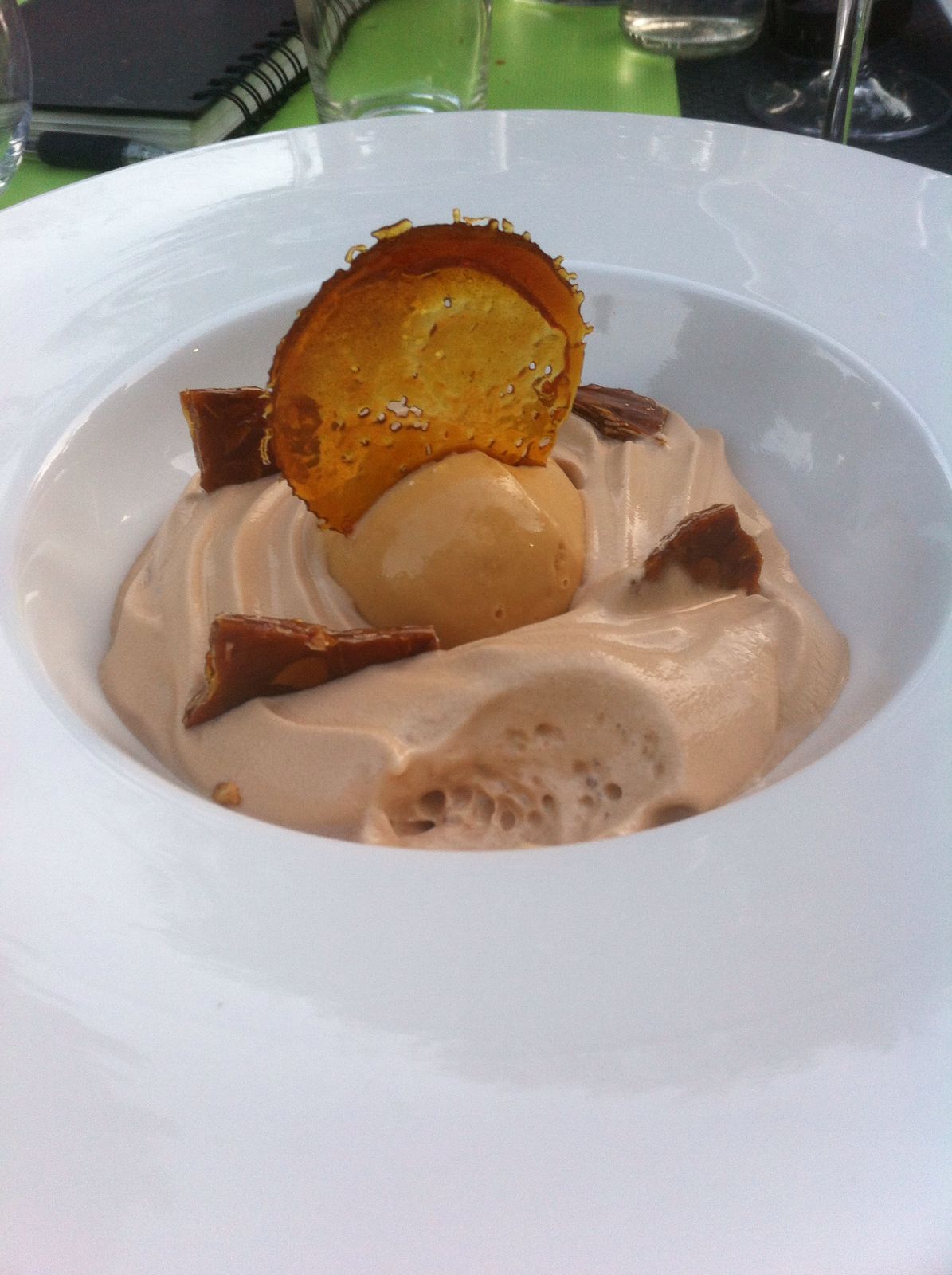 We had to hit the road early the next day, heading west, to make it to
Villargeau
in the coteaux-du-Giennois, which is the other side of the Loire from Sancerre. Here we found another tale of woe about the 2016 frost which obliterated their red wine production entirely. The white wines from this likeable family team are always good and 2015 was no exception. They had no yet bottled the red 2015.
From here we drove towards
Irancy
for the last wine buying of the trip. On the way we passed through
Coulanges-la-Vineuse
where we stopped at the
Domaine du Clos du Roi
, chosen at random as we drove past. This was another fortunate call as they had some very quaffable and reasonably priced Pinot Noir as well as a Pinot Noir/César blend (a speciality of the area). They were also selling cherries from their own orchards and these were good enough to merit the visit on their own.
After a picnic lunch sitting on a bench by the river Yonne we called on three producers in Irancy. M. Renaud offered an excellent basic red 2015 though it was priced to reflect its scarcity. It was the same story at Colinot where he was asking the frankly grabby sum of €20 a bottle. We have been going there for many years and can remember when it hit €10.
Thence to the meticulous M Ferrari who hadn't bottled his 2015 red, probably waiting to see what he can charge for it. I bought some smooth 2013 and then had a final surprise.
Chablis
is just up the road and Ferrari has started making it very well and for the competitive price of €11 a bottle. That was the last addition to the car's load. We were pretty much stacked up to the roof.
For the final night we stayed in
Vézelay
again and ate in Le Bougainville. I was too full to order the cheese trolley but it offers a fine local selection.