Having found that our attempt to visit France in search of wine in early June was stymied by the fact that France wouldn't let anyone in, we shifted operations to early August. As it happened we found ourselves in the midst of a proper heatwave, reminiscent of the Canicule of 2003 which turned light red wines into something much heavier. In short, we were as hot as if we had, well, a fever.
We spent the first night in Saumur where. consistent with the mood of the time, our intended restaurant was closed due to an employee electrocuting himself (not fatally) with some unspecified kitchen equipment. So we chanced upon Le Bistrot de la Place which was good enough to merit a recommendation. With most tables outside, the staff worked very hard and delivered great food and timely examples of a huge and enthusiastic local wine list. Here is the restaurant.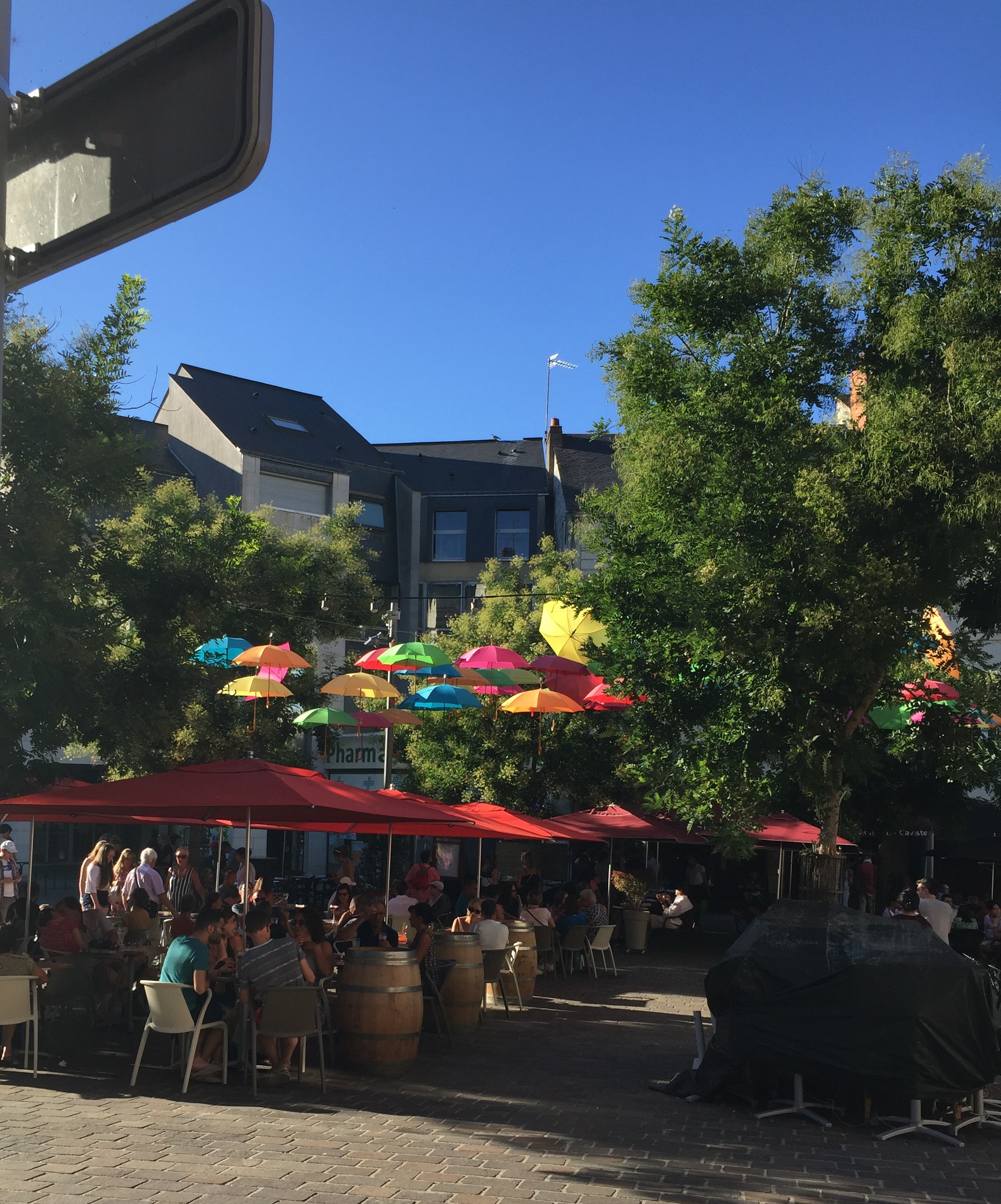 The next day we left quite early to the Domaine Amirault in Bourgeuil. We were told that we had to be muzzled inside except when we stood still and unmasked to taste the wine. Well, that was a relief and I was happy to be rooted to the spot. This grower has a reassuringly high opinion of its product which is reflected in the prices, though the wine itself is of course a matter of taste.
Nothing blew me away. I bought half a case of La Source (€10), a fruity 2019 offering from St Nicholas de Bourgeuil and six of 2018 La Mine (€14), the vines of which are grown on clay and gravel. This domaine is very particular about the effect of the terroir.
A short distance down the road is Mabileau, a domaine that is keen to point out that it is a biological producer. This always makes me think of a cleaning product, which is unfortunate. Mabileau is in St Nicholas de Bourgueil itself and I bought some 2018 red, Les Rouilleres, €11, (Cabernet Franc like most western Loire reds) which was light and fruity and should be pleasant chilled. For the same price I bought some white Anjou, made from the Chenin Blanc grape. This was both sharp and off-dry and should make a decent aperitif drink on a hot day. This picture is on the wall in the tasting room.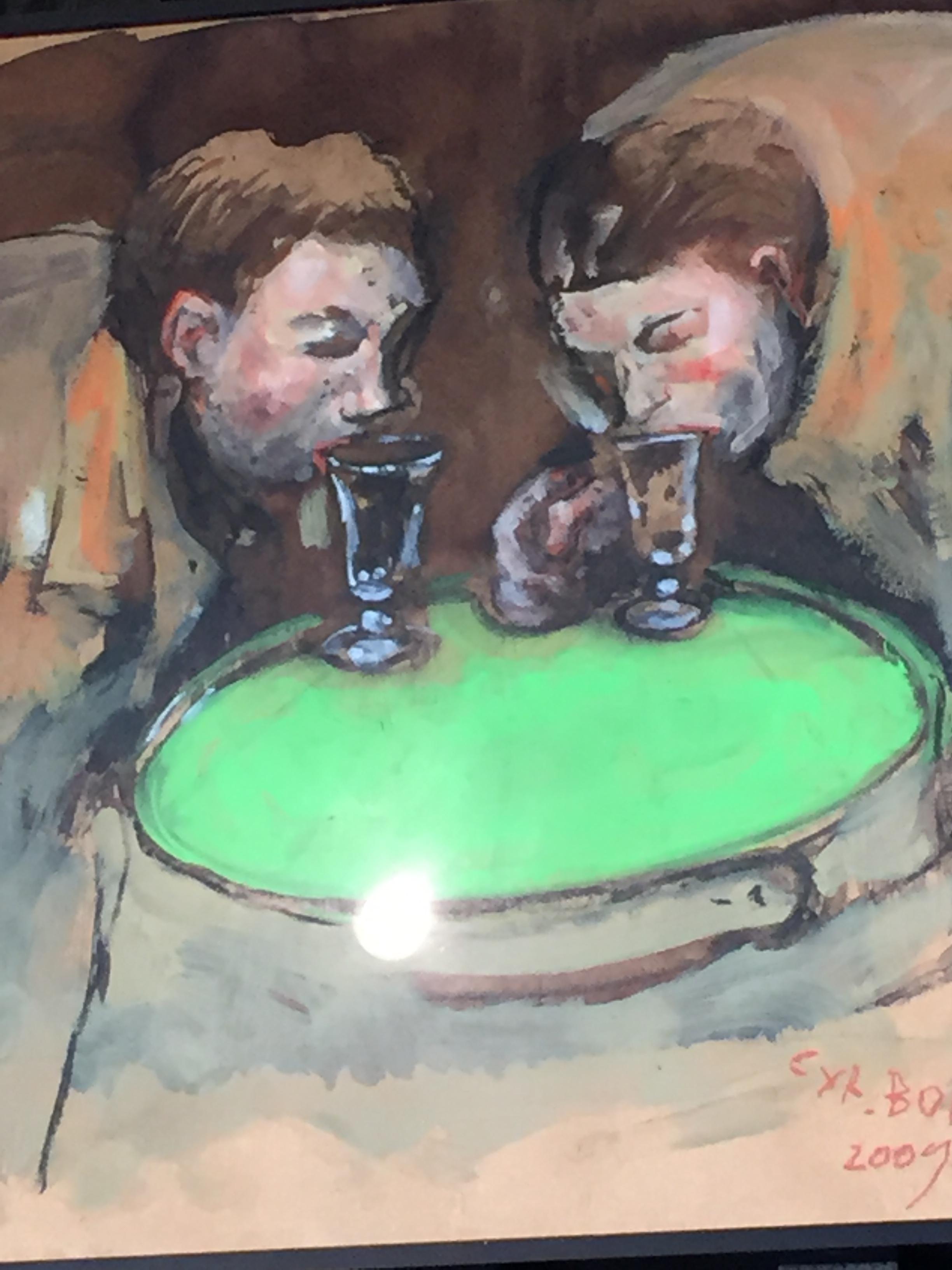 As we left I was asked for my name and email address, either for marketing or tracing purposes or probably both. Some 350 kilometres away later that afternoon the atmosphere and the wine were both refreshingly different.
It was another big driving day all the way down to Tournus. But the motorway curves around past Auxerre and quite close to Chablis. In very hot weather, wine buying is rather like going to a food shop when hungry - the thought of chilled, crisp white wine is compelling. Just outside of Chablis, which is variously described as a village, a town, a commune and, according to the local tourist board, a "cité", lies the undoubted village of Fleys.
Just after the church down on the left we found Domaine Gautheron, a wine that we bought last year by accident from a producer in Irancy. Finding the man himself was well worth it. Welcoming us to his tasting room he enthusiastically insisted that we try everything, including his precious Grands Crus. His basic Chablis was everything we could have wanted, including its price of €11. I bought half a case plus half a case of Premiere Cru Vaucoupin (€16).
Not only was the earthy M Gautheron unmasked but our personal details on the receipt amounted to the single word "Anglais".
Tournus is a pleasant town by the Saone in which it always seems to be hard to find a good restaurant. In fact, it's quite hard to find anything because the streets are narrow and randomly one way and have names beginning with the word Impasse. This time the town was quite busy and the eating establishments were as ever in limited supply. We booked a table at a deserted terrace behind the Hotel de la Paix. When we returned an hour later people who had not booked were being turned away and this continued all evening. Even better, the food was excellent.
The next day was a breeze, driving-wise, though not weather-wise. We made our way up to the hills of the Beaujolais area, windows open, warm air pouring in as if from a giant hair dryer. Alain Gauthier in Villié Morgon was gratifyingly pleased to see us and his 2019 Chiroubles was instantly fruity and delightful. I bought eighteen bottles at €7.5 each. Then we drove along to Fleurie to revisit a favourite haunt, the Cloudert family's domaine known as Clos de la Roillette. The wine here is generally very full and rich by Beaujolais standards. The basic Fleurie 2019 was absolutely delicious. Had I not just topped up so enthusiastically at Gauthier I would have bought more than six bottles at €9.5.
An early lunch overlooking the village at the picnic table outside la Chapelle de la Madone was a given.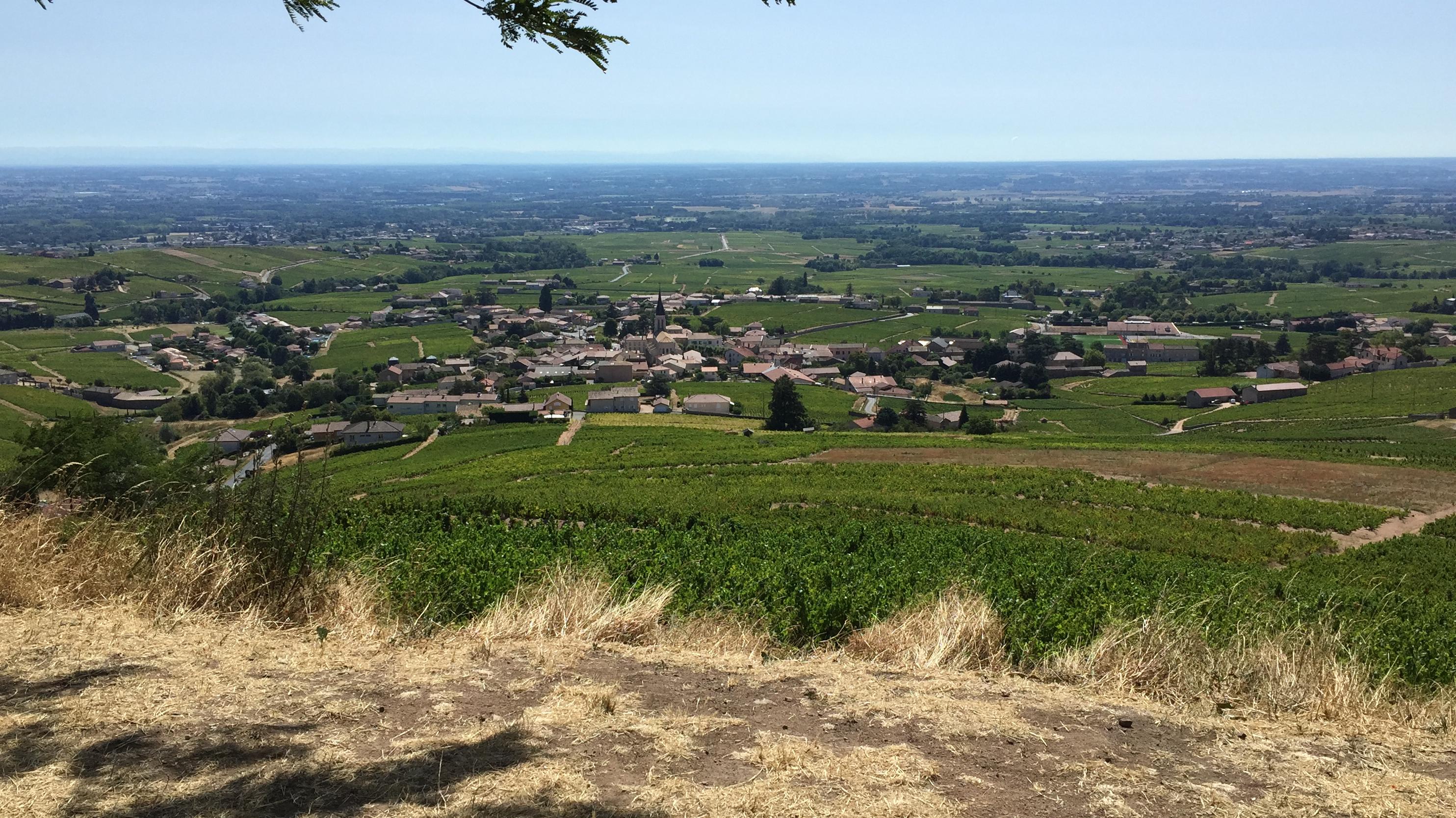 Then we drove a familiar route to Uchizy to pick up a dozen 2019 Macon-Uchizy from the domaine once known as Paul Talmard but now taken over by his daughter Mallory and her husband Benjamin. For €6.5 a bottle it is a great, crisp quaffing wine. They make 300,000 bottles a year and are now promoted by the Wine Society. Expressionless behind her mask, Mallory looked serious and driven.
Now we were on a roll. We easily found last year's discovery of Domaine Patrick Guillot in Mercurey, tucked away down a side road. Mme Guillot was happy to run us through the offerings and the red Premier Cru was outstanding, even at €18 a bottle. I bought half a case.
And still our day was not done. With the temperature and potentially the wine in the back of the car cooking, we moved on to St Aubin where we found Elodie, daughter of Bernard Prudhon who had a good selection of whites and reds. I bought six white Bourgogne Aligoté, not normally a grape I rate very highly (traditionally it was used to make Kirs, I think) but this was very crisp and attractive at €7.9 a bottle - or maybe I was seduced by its coldness? I also bought six 2017 Le Bam, a red that I purchased last year (€13.5).
We stayed at Le Vendangerot at Rully, a hotel that is under new management. The waiting staff were stretched with everyone naturally wanting to sit outside. The restaurant has retained its local popularity though on this occasion it didn't quite scale the heights of my memory.
The next day we continued to tack our way back up France. We made it to Chadoux, a village near Sancerre for a quick tasting before Domaine André Dezat closed for lunch. We were after some red Sancerre and we found an excellent fresh 2019 for €9.8. It's as well that we knew what we wanted because they were in the mood to close early. Wine, 8/10, customer service 4/10.
After lunch at a shady picnic table in the middle of an unused municipal camping site (search and you shall find, sometimes) we dropped in to see our regulars at Villargeau. The Thibault family, who seem to be enthusiastically breeding new generations, pride themselves on their Sauvignon Blanc which has a character derived from the flinty and clay slopes to the north of the Loire. I thought that their basic 2019 Villargeau Blanc was delicious and good value at €8.25 so I bought twelve. I was not amused to discover subsequently that I had been given the 2018. By mistake, I hope.
That night we stayed in a beautiful chambres d'hótes in the middle of Auxerre. It was as hot as ever but we were given access to a courtyard in which we could park the heavily laden car under the shade of a tree. We found a basic but excellent small restaurant and the experience was hardly marred by the fact that, my enviable French notwithstanding, I was brought the wrong first course and was given the cold eye by the waitress who seemed to find the idea that she could have made a mistake too outrageous to contemplate. My dining companion, whose ear for Franglais is, if anything, keener than my talent for speaking it, was adamant that I was in the right.
On the final full day of our trip we had time on our hands and a small space left in the back of the car for a few more bottles. We needed only to drive from Auxerre to Troyes, a mere 75km in a straight line. Reviewing the quality and value of what we bought and perhaps influenced by temperatures still stuck at 35c or more, I had the lovely vision of buying another case of Chablis and, to the surprise but mild delight of M Gautheron, this is what we did. He asked if we needed to taste it again. Yes please.
Troyes was busy at night. Waiters were challenged by having to cater for large numbers of people who wanted to sit outside and menus were limited but it was better than being almost anywhere else, given the grim restrictions of the past few months.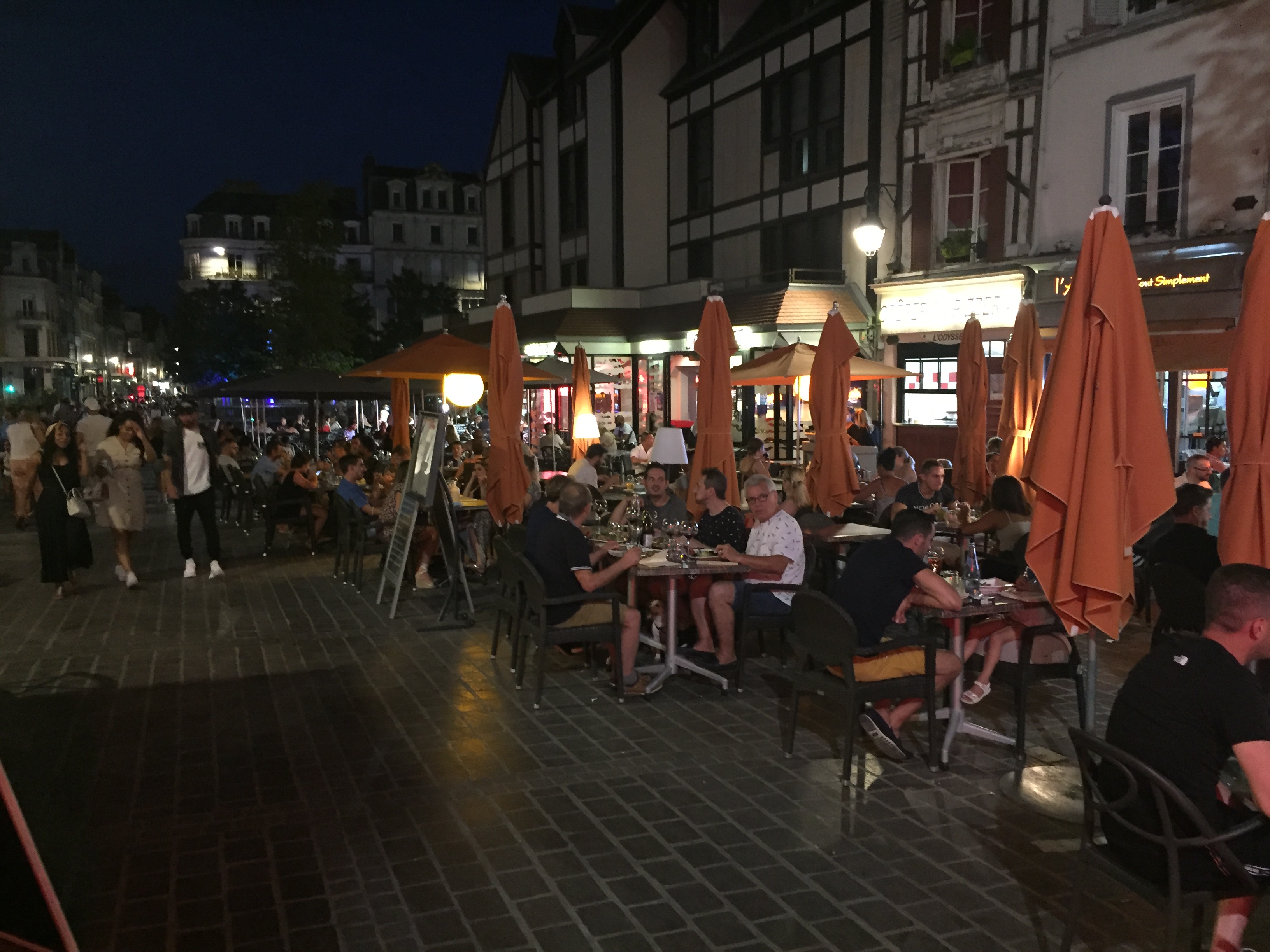 Footnote. Every grower we spoke to said that the
canicule
will bring the harvest forward, typically from mid September to late August, but they all needed some rain. As I write from Northern France on 16 August, it looks as if their wishes might have been realised.