August 2023 - closing some gaps
Having blundered last year by trying to purchase wine on Ascension Day only to then find that half the growers had no wine anyway due to the wicked 2021 frosts, we attempted a superior degree of organisation in 2023.
On our first morning we drove as directly as the outskirts of Rouen allow from Normandy to Saumur on the Loire. A thunderstorm blitzed our picnic plans and we lunched at a blameless bistro in town. From there it was a short drive to Saint Nicholas de Bourgueil and the pleasant tasting room of Domaine Bureau. The 2022 St Nicholas de Bourgueil wine (Cabernet Franc) was highly drinkable and impressively affordable at €6.30 a bottle. I bought a dozen plus two five litre boxes at €21 each. I now see that according to my calculator this amounts to half price, equivalent to €3.15 per 75cl bottle.
It's the same wine! The only downside to buying a box is that once opened it needs to be drunk within a few weeks. I can cope with that. For those who haven't noticed, the use of wine boxes is growing rapidly in French restaurants. That ritual where they uncork a bottle at the table and show you the cork has always been pretty pointless. By all means taste the wine and if it's no good, say so.
Next, we drove around twenty minutes east to Chinon and the Domaine Olga Raffault, which lies snugly in the vicinity of a nuclear power station. The wine I bought certainly has "une fraîcheur aromatique" and is called La Fraich. Another 100% Cabernet France, the 2022 is pleasantly light and fruity and cost €51 for six bottles.
That night we stayed in Thouars, which joins Rouen, Rheims and Troyes as another town that I never want to attempt to pronounce in front of a French native. (My best guess is Twach with a vague Scottish intonation). It is a spectacular setting - a partly fortified town perched above a few rivers - but you have no sense of that when you are there. On this occasion we had an apartment which meant that we could eat our picnic lunch for dinner. The next morning we discovered that a large market was being set up outside our door so we were able to buy another picnic lunch before we set off.
We had a lengthy drive to Saint-Pourçain-sur-Sioule which I wanted to do cross country, avoiding motorways on which we had spent hours the day before. Unfortunately Google Maps kept having the bright idea of speeding up the journey by redirecting us to the autoroute so I metaphorically chucked it out of the window and we proceeded old school by pointing the car in the general direction. At some point the sun came out and we found a neat picnic bench by a river. According to my iPad which is storing this photograph we were at Ardentes. So there, then.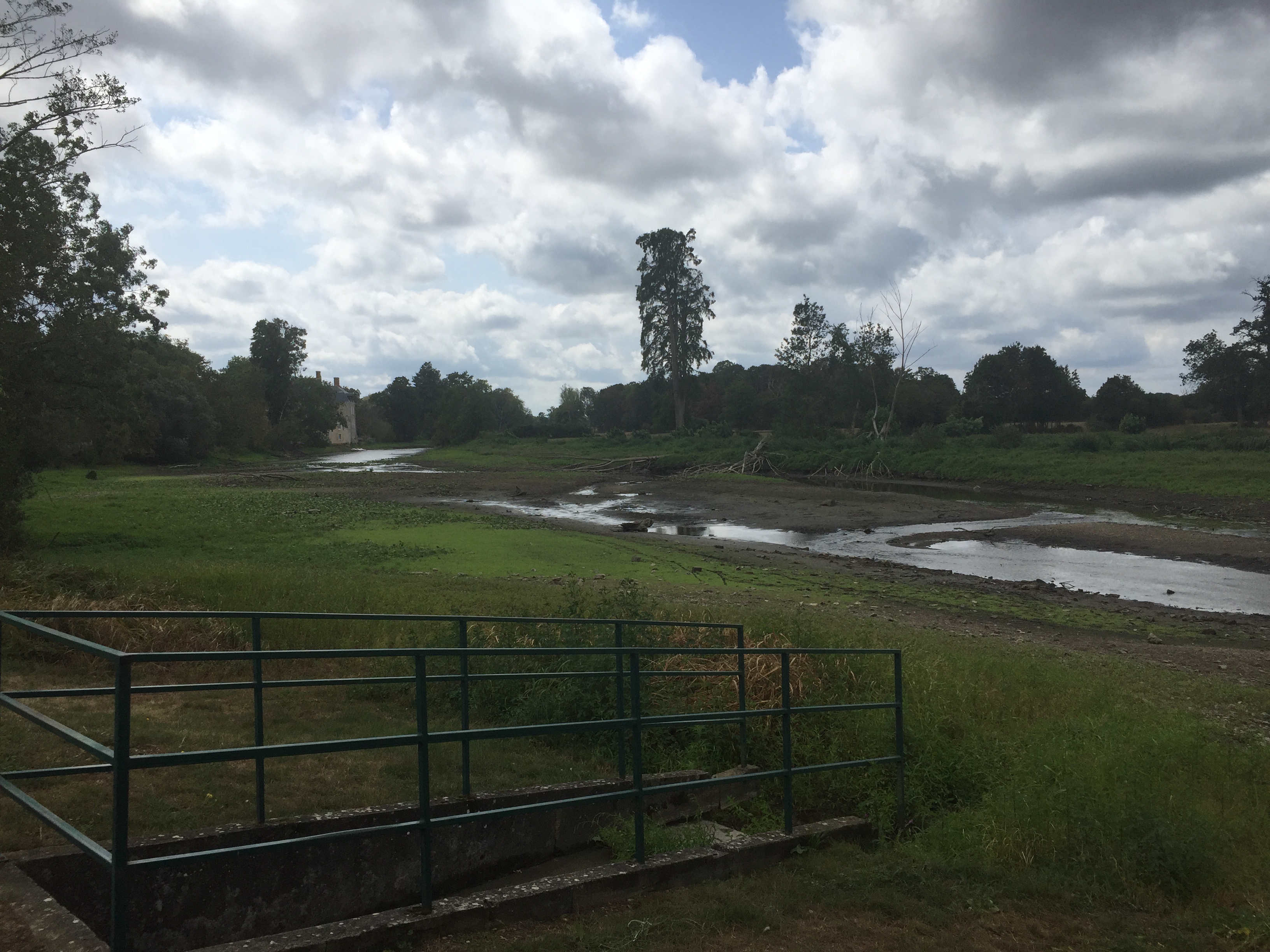 Saint-Pourçain is a little known wine growing region and sadly I think that relative obscurity will persist for the foreseeable future. Domaine Nebout has Pinot Noir and Gamay grapes which sounds promising. We tasted four red wines of which two were unimpressive blends of the two grapes and two were unblended. The 100% Gamay wine was called Harmonie (which seems illogical) and the pure Pinot Noir, of which I bought six rather grudging bottles at €10 was optimistically named Séduction.
Forty minutes further was Domaine Serol in Renaison not far from Roanne. Having been frosted out last year we were at last able to taste their wine made from Gamay Saint Roman, a local variety of the grape. The tasting cellar is guarded by a friendly dog that we met last year and hosted by an enthusiastic and talkative young lady.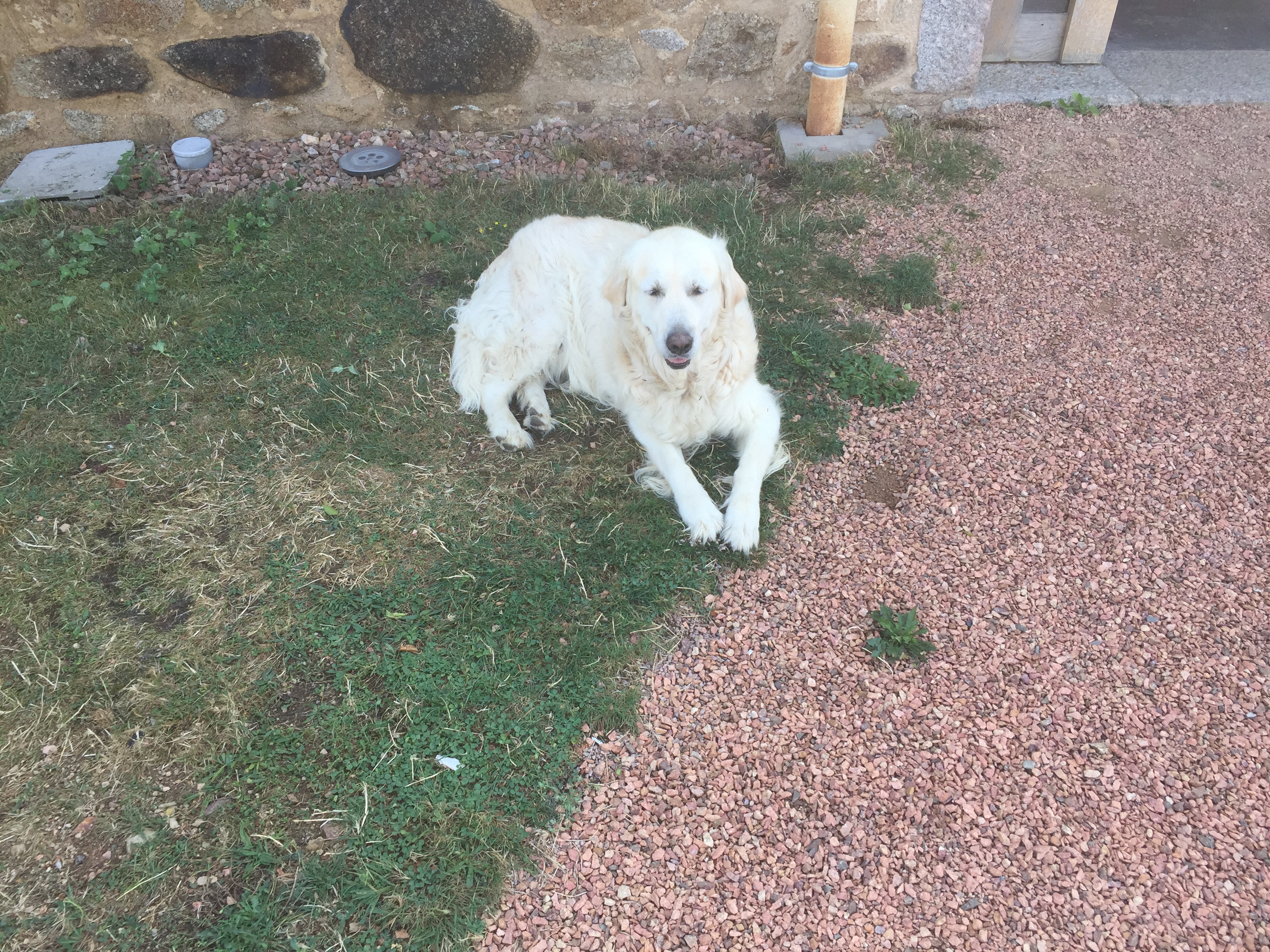 I bought six of their basic red (€13.5), three vieilles vignes called Trois Grains (€15) and three bottles of a sparkling pink, Turbullent, (€9) also made from Gamay grapes. These latter come with the kind of cap usually found on a beer bottle. I found the wine pleasant and just off dry but if nothing else it is a talking point.
That night we stayed in an apartment in Charlieu, around 10km north of the rather unlovely Roanne. The apartment was great but the choice of restaurants was distinctly limited. Thus it was that we found ourselves eating Pelmenis (Russian ravioli) and supping Georgian wine at the Bistro Kalinka. I am pleased to say that it was better than it sounds.

The next morning we drove pleasantly east to the town of Fleurie to reacquaint ourselves with Domaine Coudert, known for their La Roilette Fleurie. This is a family business as the boss man Alain Coudert, always supported by his sister, an enthusiastic taster as we can vouch, now has a son on the team. This is one family where introductions are supplemented by a distinct family nose. Even the faithful old dog has joined in.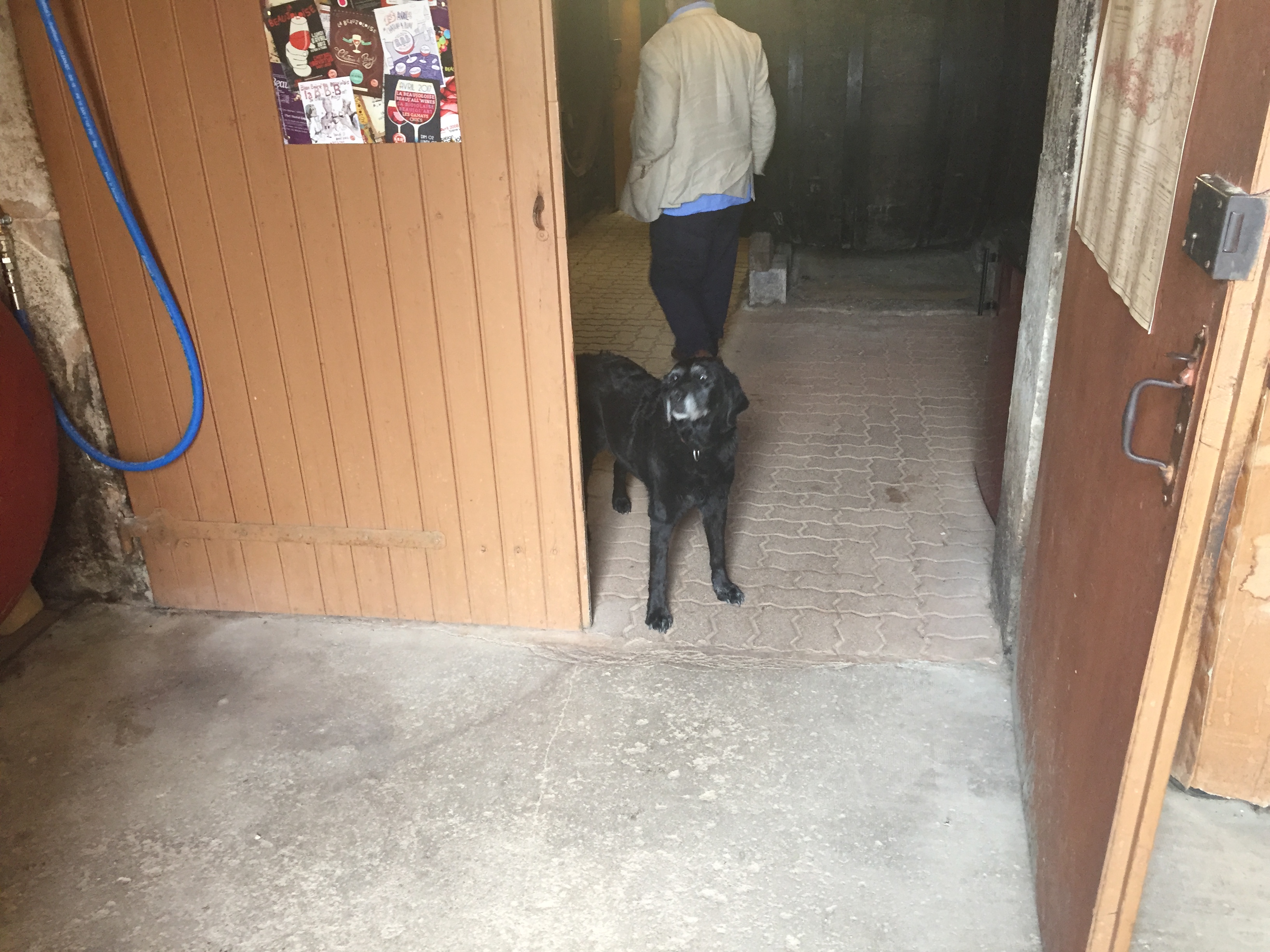 There was a surprise in that the Fleurie brand, previously supplemented by a very decent Brouilly, has now been joined by a Moulin á Vent which turned out to be our favourite and also the most expensive. I bought six Fleurie at €11 and six Moulin at €14. I also boosted my Beaujolais stocks at the Domaine of Alain Gauthier, an old friend, who sold me a dozen Chiroubles at a friendly €9 each.
Not for the first time we lunched overlooking Fleurie by the Chapelle de la Madone. Our lunch was accompanied by a light drizzle.
Now we turned north in search of Chardonnay. We arrived in Vergisson more in hope than expectation. Needless to say, most of the town seemed to be on holiday. Just as we were giving up hope we randomly found Christelle Greffet. A somewhat unusual tasting followed. Not only were the tasting measures commensurate with the size of the server, who could barely see over his desk, but the white wine was no cooler than room temperature. I suppose one could argue that it shouldn't make a difference - indeed, I have wondered if chilled wine tasted on a hot day has in the past caused me to be too enthusiastic. Despite the appropriately lukewarm cartoon, I purchased six bottles of Mâcon-Solutré-Pouilly for a restrained €9.50 each.
A more reliable source of quaffing Chardonnay is Macon Uchizy. Twelve bottles at €8.40 will be the source of much casual enjoyment over the next year.
We closed out the day by driving north to Rully to stay at Le Vendangerot where the food is always good. Sadly, the hotel rooms are becoming shabby and worse, the wine list is distinctly grabby. Worse still, all the lower priced wines (i.e. less than €40) on the printed list turned out to be unavailable. It interferes with the enjoyment of dinner when you feel that you have been mugged.
The next day was a Sunday and we had nothing to do but drive meanderingly to Sancerre where we found some unexpected musical entertainment. Two French men who looked strongly reminiscent of Asterix and Obelix were cranking out what I took to be Irish dance music. Sancerre is a hill town in which I imagine not much happens but I was nevertheless surprised to observe the local people attempting a Sancerrois version of Irish dancing.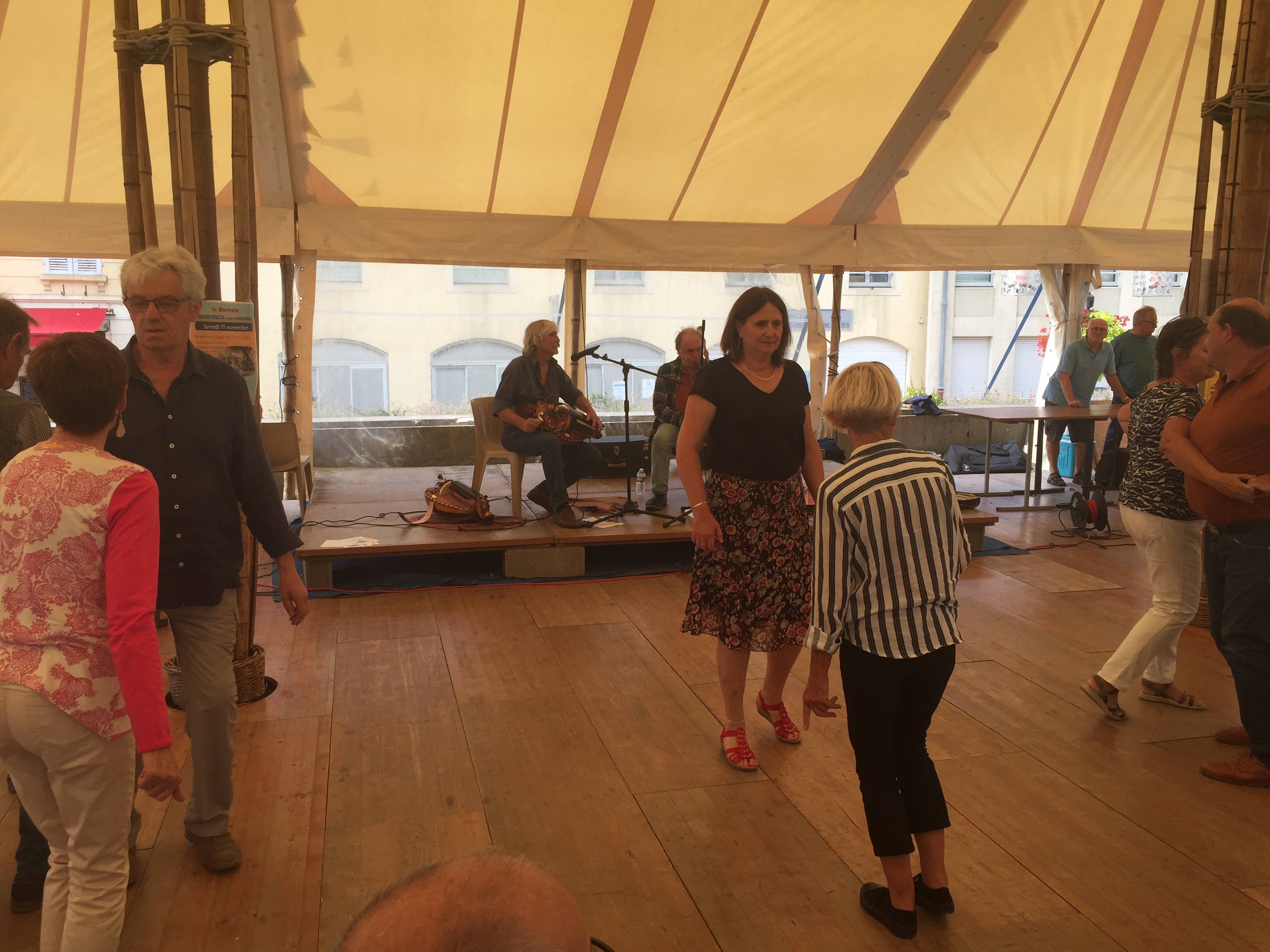 The next morning we knew we had to conclude our wine buying. We drove ten minutes to Firmin Dezat, a family producer that is really getting into its stride, having been operating since 1550. We met the young man who represents the nineteenth generation. On our previous visits, this operation has lacked a customer friendly vibe. Not so now. Our new host spent a year in the Napa Valley learning wine making skills but also some of the art of selling. And very willing buyers we were.
I had intended to buy some red Sancerre, which is made from Pinot Noir. I bought six bottles of their Prestige brand which is made from vines at least sixty years old planted in pebbly soil. This was €15 a bottle. I also bought some white Sancerre (€12) and, somewhat to my surprise, some Pouilly Fumé (€11). The white wines are of course Sauvignon Blanc grapes.
Next we pressed on to Domaine Villargeau, well known to us from previous years. I was hoping to try their Chicago red wine (mostly Gamay) but they had sold out. So I bought six bottles of their standard 2022 white, crisp and €9.90 a bottle.

After that we took a longer trip to Fleys, on the outskirts of Chablis. Happily their 2022 Chablis at €13.50 appeared to be in fine form and I found room in the back of the car for eighteen bottles.

Not for the first time we stayed in Troyes at the Hotel Les Comtes de Champagne and dined at the unpretentious Grill Saint Jean.
In total, I bought 127.3 bottles equivalent (including the boxes) at an average of €10.13 each.