August 2022 - frost in a heatwave
The trip began almost comically badly. We had decided to stay in Gien, due to its proximity to some growers that we wanted to visit the next day. I half knew that we had landed on a public holiday (15, August). I had not appreciated how fastidious the French are about Ascension Day - or perhaps, like the rest of us. they have got used to having days off. This means that thirsty wine tasters can gather outside bolted doors waving their charge cards as much as they like but nothing will come of it.
Sadly, the arbitrarily chosen hotel in Gien, a town we did not know, turned out to be a poorly equipped service flat in a rather shabby private house. An old review spoke of a wonderful breakfast including eggs laid by the proprietor's own hens. The processed orange juice and banana offered to us in the morning may well have passed through the body of an animal but the only evidence of hens was the repeated greeting to the first light of the new day by a lusty cockerel.
We fled to Sancerre to Domaine Dezat, the source of excellent Pinot Noir last year. We found a message on the door informing us that a plague of frost and hailstones in 2021 had all but wiped out their harvest and they had no wine at all.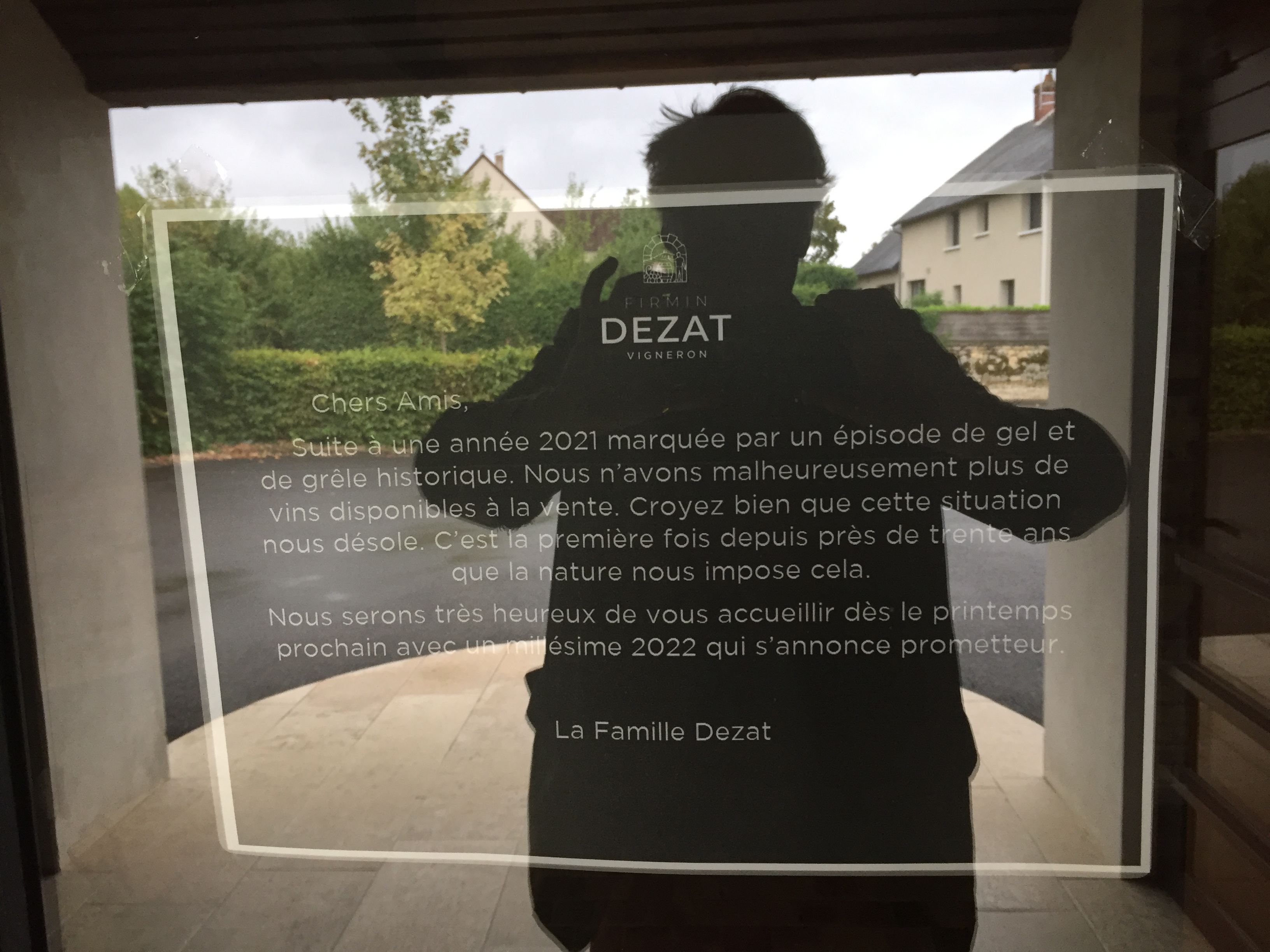 There are many small producers in Sancerre so we decided to take pot luck elsewhere. But our luck was right out. As mentioned above, they were all closed for the religious holiday.

Correctly fearing the worst we headed south towards Saint Pourcain sur Sioule. It's an increasingly agreeable trip featuring the N7, a fine road that benefits from the fact that most of the traffic is on one of the fast-track vacation autoroutes. I had read good stuff about the local wines which I had never tried but alas they are still unknown to me.
At a village called Renaison we found Domaine Serol, well spoken of by the wine society but on this day represented only by an agreeable dog.
That evening a friendly and efficient employee of a proper hotel in Roanne managed to find us an open restaurant for which we were truly grateful.
The next day we had some catching up to do. Returning to Domaine Serol we found them manned by our own species and very welcoming but, alas, more victims of the 2021 frost. According to M. Google we had travelled 180 kilometres from Sancerre to Renaison which raised the uncomfortable question of just how widely this natural disaster had spread its icy tentacles.
We drove for 90 minutes eastwards along some delightful D roads to Fleurie where, joyously, it turned out that the wines of the Domaine Coudert had somehow come through unimpaired. My Revolut card tucked into eighteen bottles of La Roillette Fleurie and a few of their second string Brouilly. A real celebration at an average price of just €9.9.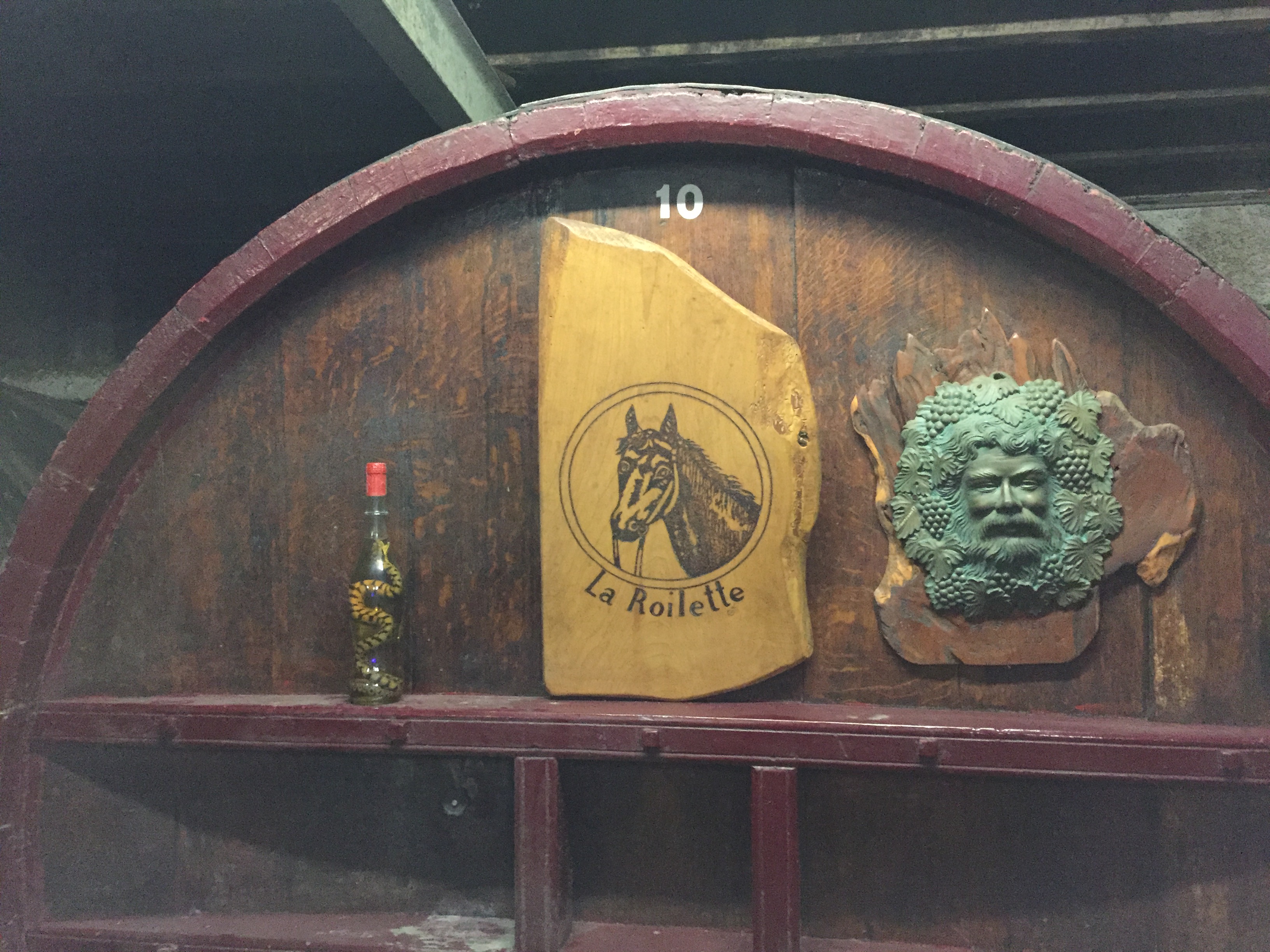 We motored north to Vergisson, home of Pouilly Fuissé, Sadly it turned out that the pesky frost had been at work again. I scored another friendly dog but his owners were dry. At last, down an unpromising narrow road we found Gilles Guerrin who looked quite surprised but happy to have been discovered. Not only did he have a welcoming tasting cellar but also he had remaining stocks of his 2020 vintage - and very good it was too. A dozen Saint-Véran at €10.5 felt like good business to me.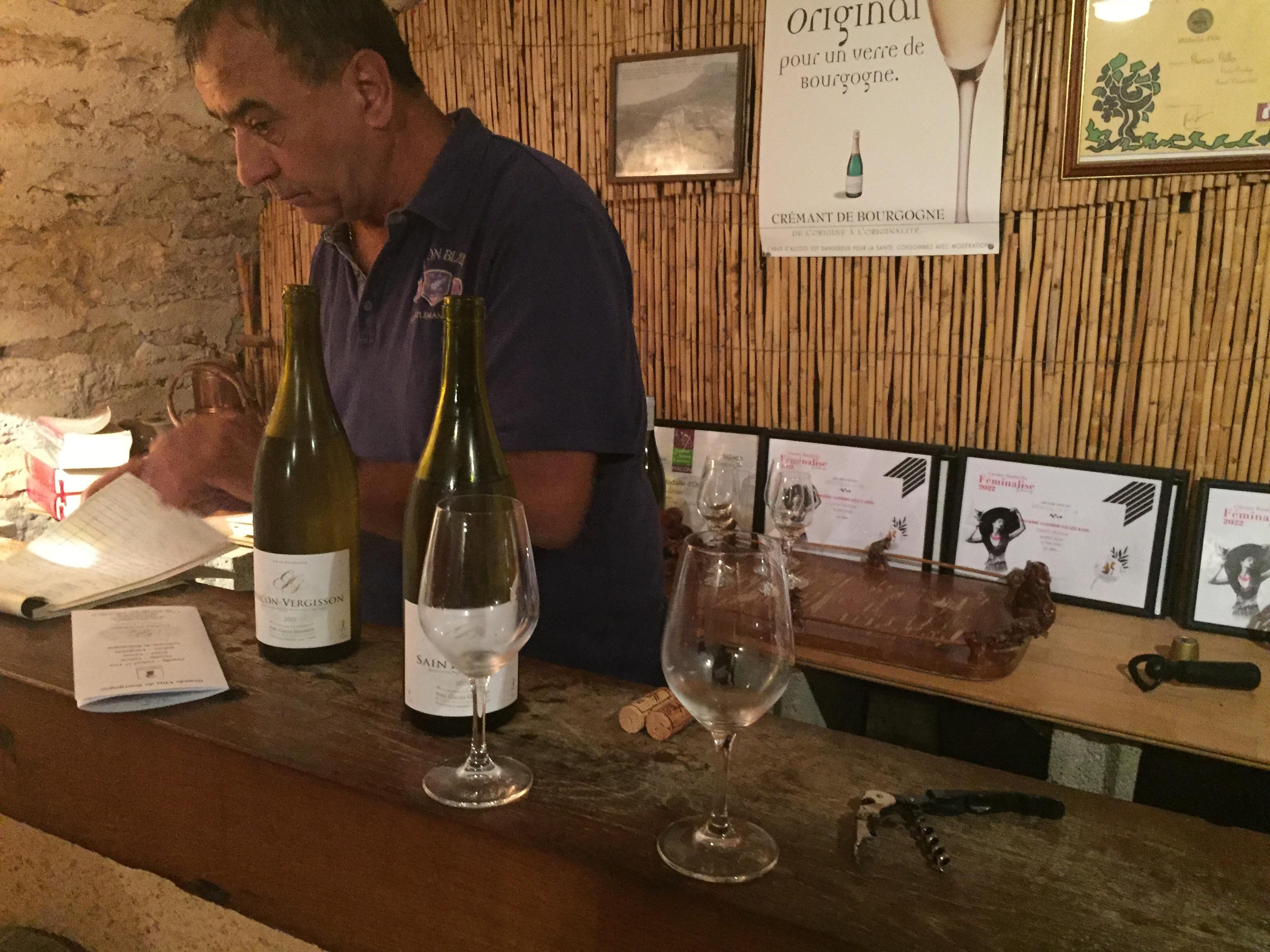 After a swift lunch at a roadside picnic table we headed north again towards the brand name villages of Burgundy. First stop was Mercurey where we found Mme Patrick Guillot in bullish mood. We discovered here and subsequently at Saint Aubin that the response of the Burgundian wine growers to a difficult year has been to keep calm and stoically yank up their prices. The red Premier Cru Clos des Montaigu must have been absolutely delicious as I bought six bottles at €23.
At Saint Aubin our first call was at Gérard Thomas. M Thomas does not have the sunniest disposition, especially at the best of times. On this day he was positively chuckling as he told us that he had no wine. I should mention at this point that everyone we met was optimistic about the 2022 harvest. I sincerely hope that if we return next year M Thomas will have a face like a bloodhound and will say regretfully that his cellars are overflowing.
We drove up the road to Domaine Prudhon, a family business that we know well. During our tasting a granddaughter of around four was playing with a box of corks. Knowing the family as I do I predict that she will be humping cases around the cellar by the time she is eight.
The prices were eye watering but I was on a roll so I bought six €24 bottles of white Premier Cru 'Les Murgers des Dents de Chien''. The means "the walls of dogs' teeth" and refers to the stone walls that surround the vineyards. The grapes of this appellation grow in very flinty soil (no doubt the raw material for the walls) and the wine is sharp, bringing to mind teeth again. I don't know whether the wine is oaked but's just crying out for a gag about its bark and its bite.
We stayed in nearby Meursault in a pleasant hotel with a restaurant on a terrace. The menu was pricey (the theme of the day) and somewhat limited. We had the Terrine chaude de la Mère Daugier which gave an interesting insight into the food of the 1920s.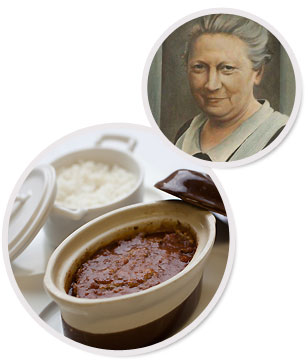 I was reminded of the poem Bitcherel by Eleanor Brown

It's not that I think she is vapid and silly;
it's not that her voice makes me wince;
but - chilli con carne without any chilli
is only a plateful of mince...
The next morning I was disappointed to find that it was closing day for the boulangerie that makes snail quiche. But we made a lengthy (nearly three hour) cross country journey to reach Sancerre again before what could reasonably be called lunchtime. We wondered if there was any red wine (Pinot Noir) anywhere. The short answer was no. I bought six bottles of white Menetou-Salon, a poor man's Sancerre but very drinkable and we repaired to the outskirts of the town for lunch at a picnic table in a tiny square where an old man took it upon himself to dry our seats for us, it having been sprinkling with much needed rain.
We then drove for ten kilometres or so to Domaine Villargeau where we are now quite well known. Last year we bought a red Chicago (Gamay) that was very enjoyable. This year, Chicago had, so to speak, been wiped out. But they also had stocks of their white wine from 2020 and I was pleased to buy some at €9.25.
We had plenty of time left in the day so we pressed on to Irancy and Chablis. In Irancy we visited Domaine Renaud where the son of the producer we used to know is now carrying on his late father's work with, I would say, skill and ambition.
He is now branding his wines by the mini appellations by which the vineyards are known e.g. Palotte, Mazelots. Whether many people could tell the difference in a blind tasting is arguable but it's nice branding and probably pushes up the price slightly. It certainly worked on me as I bought eighteen bottles at €15 each.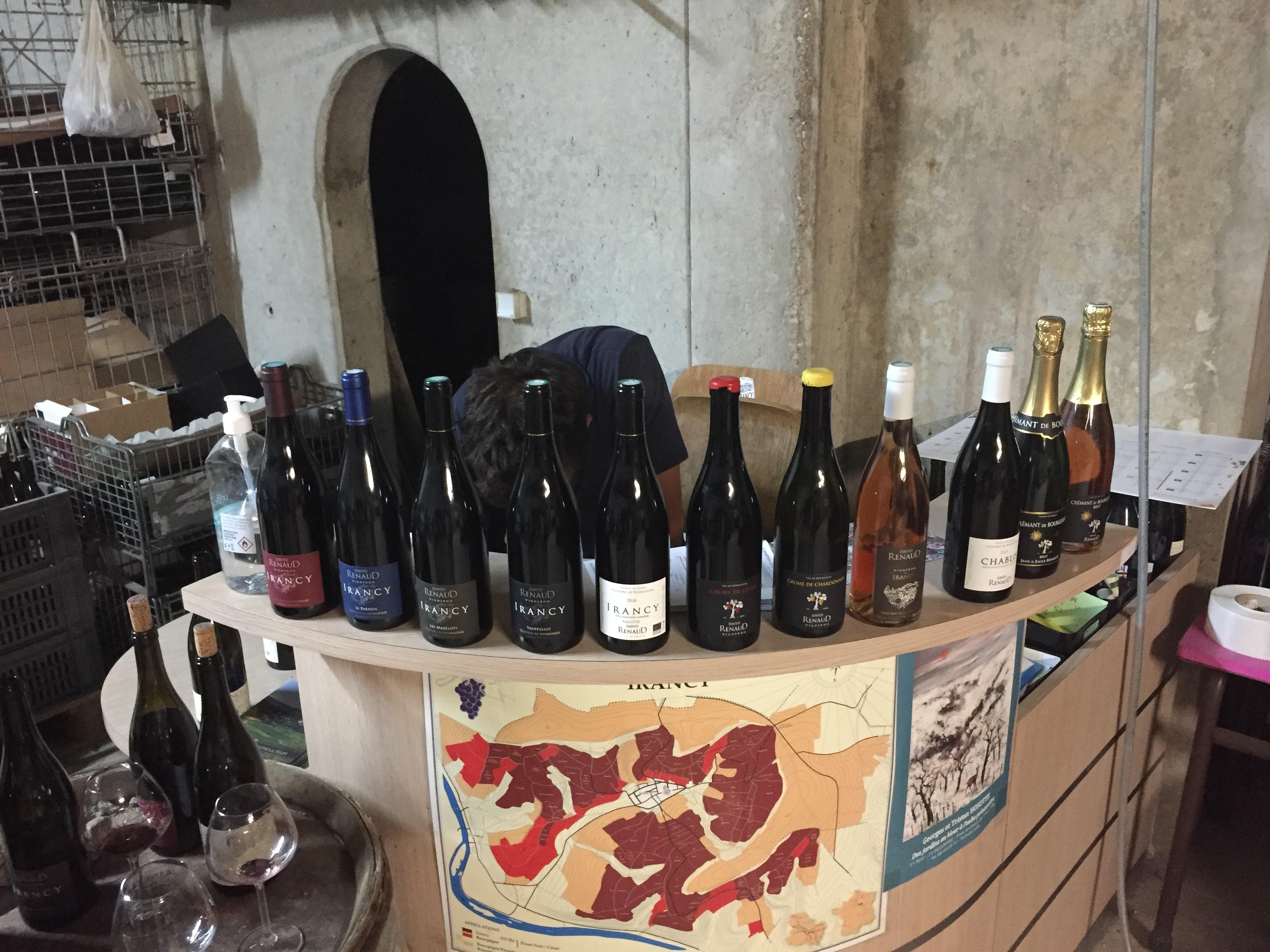 Fleys is a village just outside Chablis and home to the excellent operation of Alain Gautheron. His tasting room is so welcoming and well stocked that one feels that one could linger for hours, at least until the time came to be carried out. He has an array of yummy Premier Crus but I was delighted with his basic white Chablis at what felt like a bargain price of €13.5. His young female assistant tittered - that's the only word - at the quantity of wine in the back of our car. If only she had known how much we had missed out on.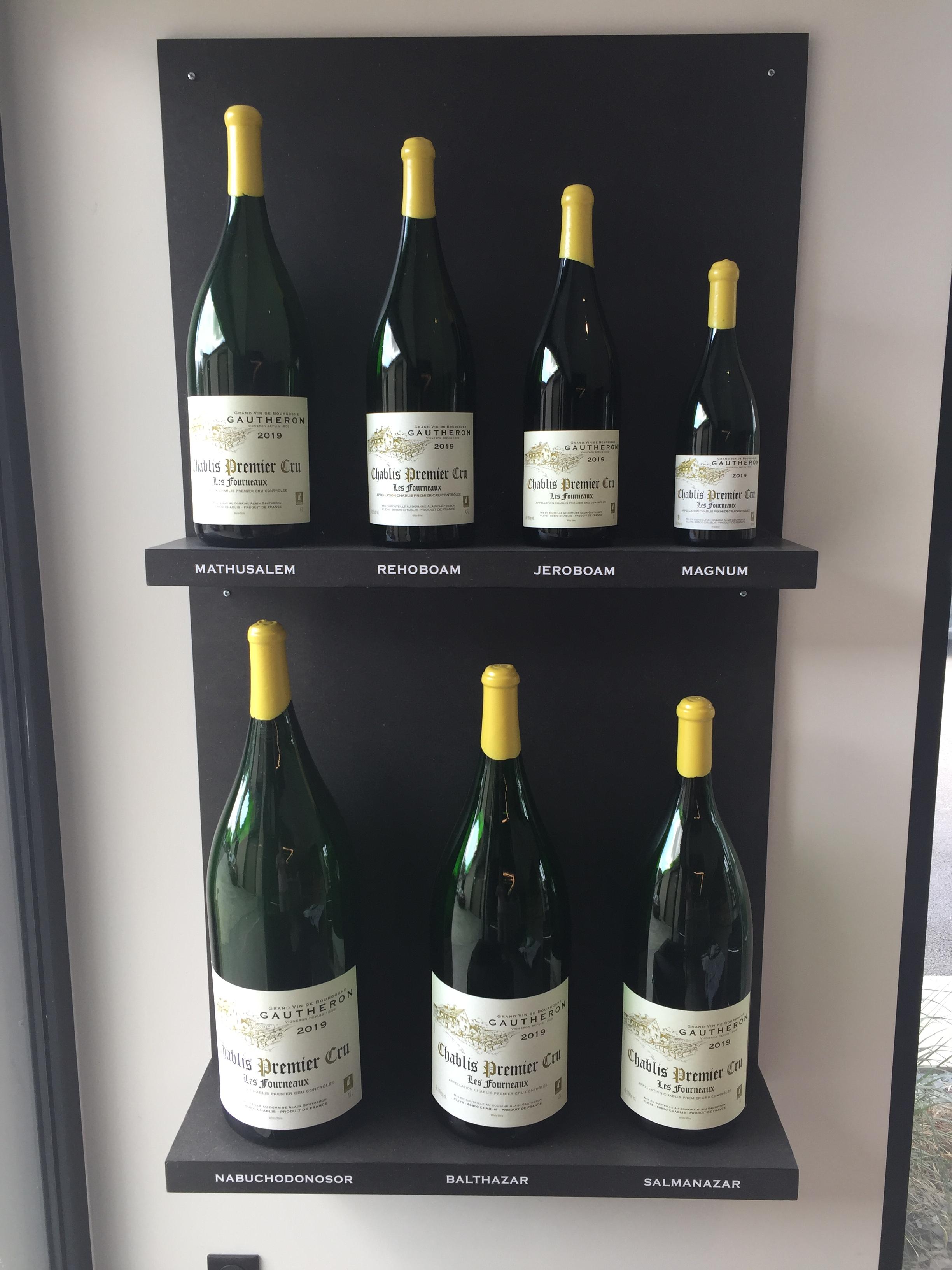 We stayed in Auzerre at the excellent Villa Ribiere, the home of a much admired young woman named Bathilde who features in all the reviews. The rooms are lovely and the breakfast customised to your wishes. Enjoy.

We ate in a pleasant restaurant called Le Quai where we came across one last dog. Having been taken out for what he presumably thought was a walk he was obliged to stand and watch while his owners sat and stuffed their faces.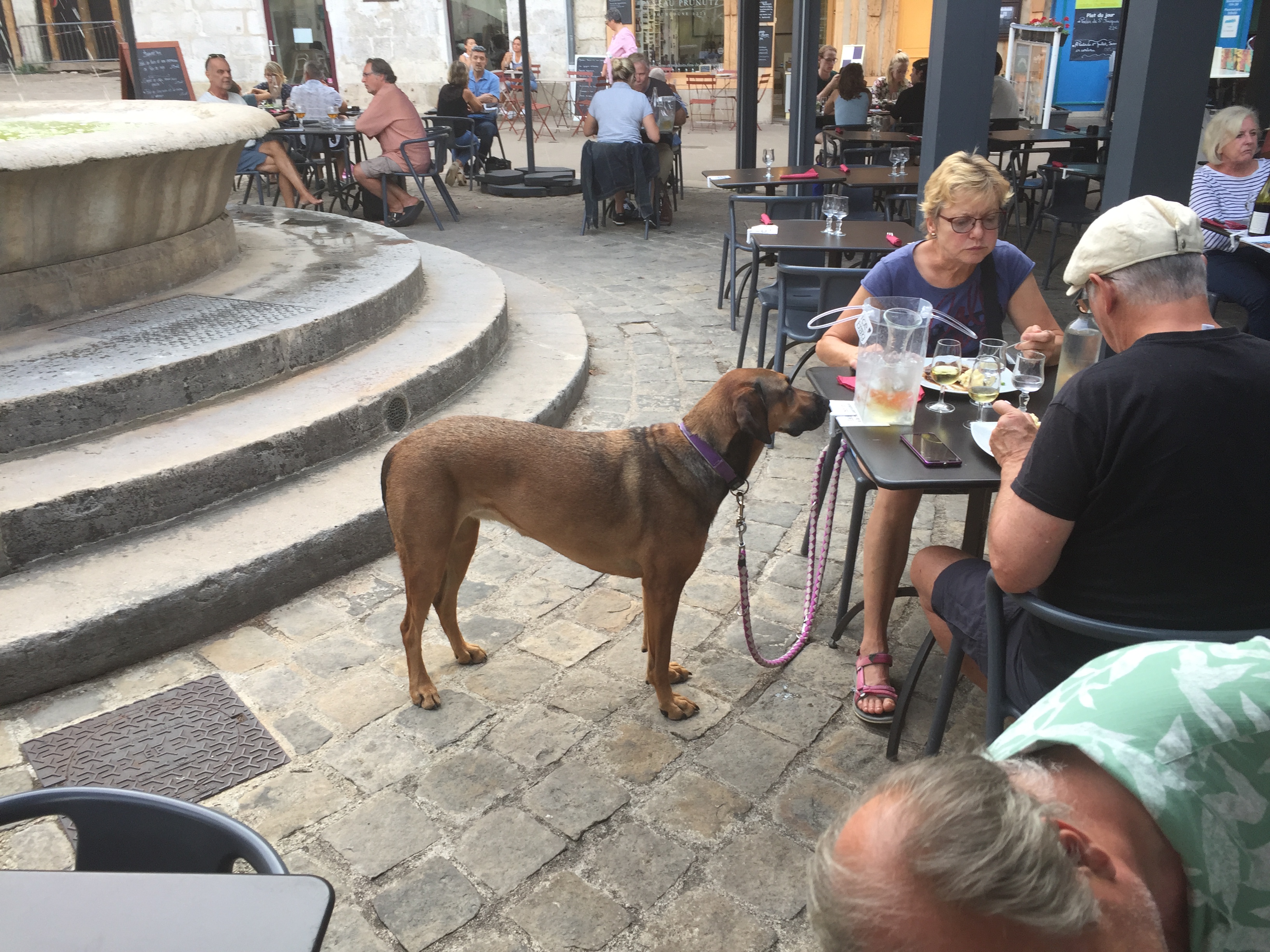 All in all it was a bit of a struggle. The dogs were memorable, though. And the 2022 vintage seems to be full of promise.